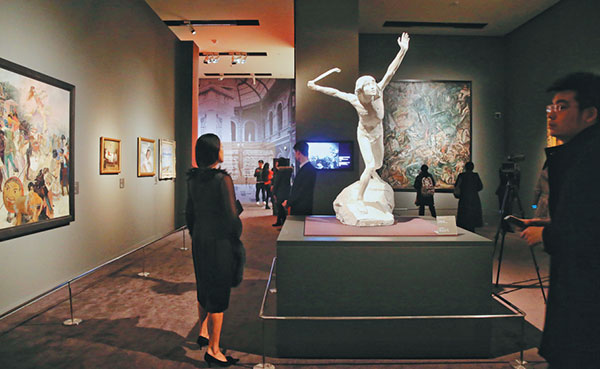 An ongoing exhibition at the National Museum of China showcases works from the French Revolution to the early 20th century. Lin Qi reports.
<!-SSE NEWSADSTART SSE-> <!-SSE NEWSADEND SSE->
The Ecole nationale superieure des Beaux-Arts has had far-reaching influence on the 20th-century Chinese art. The 370-year-old Parisian national art school nurtured China's first generation of oil painters and sculptors, some of whom later became headmasters and professors at China's prestigious art schools, such as Xu Beihong and Lin Fengmian. There were also former director of the national art museum, Liu Kaiqu, and renowned artists such as Wu Guanzhong.
The Chinese alumni of the school, also called Beaux-Arts de Paris, also included Chang Shuhong and his first wife and sculptor, Chen Zhixiu, who lived in Paris in the 1930s.
Chang is often called the "patron saint of Dunhuang" for his 50 years' devotion to the preservation of Dunhuang artworks in Gansu province.
Chang, who gave up the prospect of being an oil painter, won many awards at salon exhibitions in Paris when he was a student there.
A painting in which Chang depicts a sick Chen Zhixiu was purchased by France's Centre national des arts plastiques, or the National Centre for Visual Arts, also called CNAP, in 1935.
Since then, the painting titled Feverishly Sick has been on display at the Museum of Fine Arts of Lyon.
Now, the portrait is being shown in the country where its creator was born.
Feverishly Sick is among more than 40 artworks from CNAP's collection, which are displayed at Academy and Salon, an exhibition through May 6 at the National Museum of China. The show concentrates on art and social development in France from the French Revolution to the early 20th century.
The exhibition also features around 60 paintings and sculptures from Chang's alma mater Beaux-Arts de Paris, which has collected more than 450,000 artworks since it was founded in 1648 by Louis XIV.
Pan Qing, a senior curator of the National Museum of China, says the ongoing show is the inclusive display of art from Beaux-Arts de Paris' collection in the country.
The exhibition will travel to Kunming, Yunnan province, and be there from June 8 to Sept 9.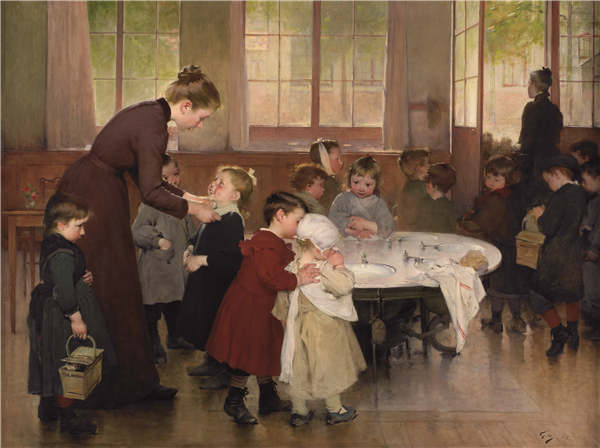 Philippe Cinquini, the exhibition's French curator, says it is rare for two Parisian institutions to come together for an event like this.

The exhibition also marks the China debut of three important paintings by Jean-Auguste-Dominique Ingres (1780-1867)-Male Torso, The Envoys of Agamemnon and Jupiter and Thetis.

Ingres, a French neoclassic painter, is famed for painting portraits, especially nudes.

The first two pieces are from Beaux-Arts de Paris' collection and were both exhibited at the Exposition Universelle of 1889 in Paris. while the third one is from CNAP and has been on display since 1835 at the Musee Granet in the southern city-commune Aix-en-Provence.

In another significant departure from the norm where paintings at exhibitions are typically displayed separately, the ongoing show has some of the works placed unevenly in two or three decks, which Cinquini says was the way that paintings were arranged in salons of 19th-century Paris. It is still how works are exhibited at the Beaux-Arts de Paris today.

Cinquini also says important artists of the 19th-century like Ingres are at the heart of this exhibition.

<!-SSE PAGELINKSTART SSE->