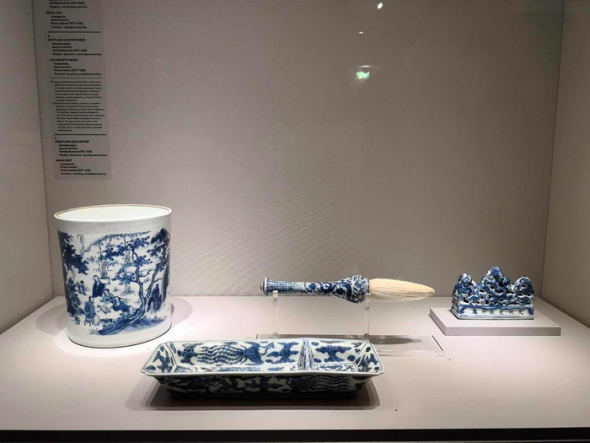 Cultural relics from to the Ming Dynasty are on display at the Moscow Kremlin Museums in Moscow, April 16, 2018. (Photo/Chinaculture.org)
<!-SSE NEWSADSTART SSE-> <!-SSE NEWSADEND SSE->
The opening ceremony of an exhibition featuring cultural relics belonging to the Ming Dynasty (1368-1644) was held at the Kremlin in Moscow on April 16.
Titled Ming Dynasty: The Glory of an Era of Intellectuals, the exhibition features 156 showpieces in 83 sets carefully selected by the Shanghai Museum, including bronzeware, lacquerware, porcelain, silk and furniture.
Many of the exhibits were unearthed from the area around Shanghai. They are of both great aesthetic and archeological value as testaments to the consummate skills of Ming artists and craftsmen.
Olga Golodets, Russian deputy prime minister; Li Hui, Chinese ambassador to Russia; and Elena Gagarina, director general of the Moscow Kremlin Museums, attended the event, along with many other Chinese and Russian officials and almost 100 guests.
Cultural relics from to the Ming Dynasty are on display at the Moscow Kremlin Museums in Moscow, April 16, 2018. (Photo/Chinaculture.org)
Gagarina first welcomed all and said the Moscow Kremlin Museums have maintained a good cooperative tradition with the Shanghai Museum. The Faberge Jewelry Exhibition and The Armoury Treasury of the Russian Sovereign, hosted by the Moscow Kremlin Museums in 2012 and 2015, respectively at the Shanghai Museum, drew large crowds of Chinese visitors.
The cultural relics on display for this exhibition are from the most prosperous dynasty in Chinese history – the Ming Dynasty. They will give Russian people a chance to learn about the exquisiteness and richness of Chinese culture in that era, Gagarina added.
In Golodets' speech, she said the China-Russia Committee on Humanitarian Cooperation played a constructive role in the cultural exchanges and cooperation between the two countries and has held more than 300 activities to date. The Moscow Kremlin Museums' 2015 exhibition held at the Shanghai Museum attracted about 650,000 culturally-minded Chinese museum-goers.
"This exhibition is a reciprocal one that we have looked forward to for a long time and I believe it will become a new highlight of the China-Russia cultural exchanges," she said.
Cultural relics from to the Ming Dynasty are on display at the Moscow Kremlin Museums in Moscow, April 16, 2018. (Photo/Chinaculture.org)
Li Hui noted that the Ming Dynasty was characterized by a booming economy, splendid culture and frequent international exchanges. It's exactly in this time period, over 400 years ago, that China started to establish contacts with Russia.
"Today's exhibition is an important humanitarian exchange event between China and Russia, and I hope museums in both countries will further deepen communication. The Chinese Embassy in Russia will remain committed to supporting and promoting the humanitarian cooperation between the two countries," Li added.
A press conference for the exhibition also was held the same day at the Moscow Kremlin Museums.
The exhibition runs through July 25, during which time many lectures on the politics, history, culture, art and poetry of the Ming Dynasty will be held.
Cultural relics from to the Ming Dynasty are on display at the Moscow Kremlin Museums in Moscow, April 16, 2018. (Photo/Chinaculture.org)
Cultural relics from to the Ming Dynasty are on display at the Moscow Kremlin Museums in Moscow, April 16, 2018. (Photo/Chinaculture.org)
Russian Deputy Prime Minister Olga Golodets delivers a speech at the opening ceremony of the Ming Dynasty: The Glory of an Era of Intellectuals exhibition at the Kremlin in Moscow, April 16, 2018. (Photo/Chinaculture.org)
Li Hui, Chinese ambassador to Russia, gives a speech at the opening ceremony of the Ming Dynasty: The Glory of an Era of Intellectuals exhibition at the Kremlin in Moscow, April 16, 2018. (Photo/Chinaculture.org)

<!-SSE PAGELINKSTART SSE->