Not all artists liked impressionism. Some felt painting that was simply pleasing to the eye lacked in substance. But Cézanne felt that order and balance had been lost as artists sought the fleeting in-the-moment experience, ignoring the enduring forms of nature. He desired a simplification of natural forms into geometric essentials.
Van Gogh agreed; he thought by exploring nothing but optical qualities of light that art was in danger of losing its intensity and passion. And Gauguin famously went to Polynesia to address the issue. What we call modern art grew out of feelings of dissatisfaction; Cézanne's approach led to cubism and Picasso, Van Gogh to expressionism that went on to influence the Germans, and Gauguin to primitivism.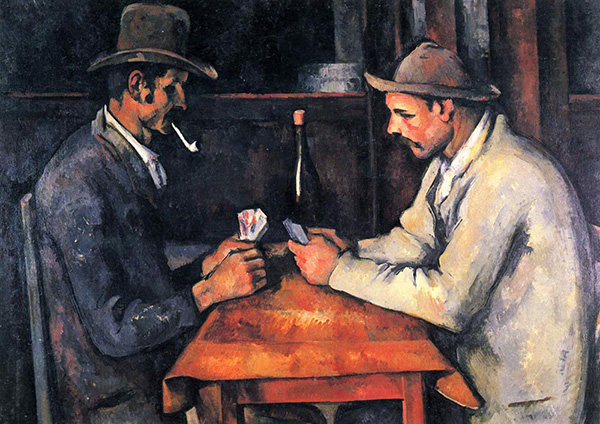 Much of Cézanne's life was dominated by his association with the novelist Émile Zola. They met as schoolboys and became lifelong friends, exchanging numerous poignant letters, until in 1886, the artist angrily parted ways following the publication of the author's L'Oeuvre. Cézanne thought Zola had based the protagonist, Claude Lantier, on him – the narrative depicts the failure of an artist, a lost genius who, powerless to create, ends up committing suicide.
Of course, Cézanne's reality turned out much different. One of his paintings from The Card Players series sold for 0 million to the royal family of Qatar in 2011, making it the second most expensive painting ever sold.
The letters Cézanne left behind are among art's most touching reads. Five years prior to his death, he wrote to the artist Gustave Heiries in 1901: "I have perhaps come too soon. I was the painter of your generation more than my own. You are young… As for me, I'm getting old. I won't have time to express myself. Let's get to work." To his son, Cézanne wrote: "Have a little confidence in yourself, and work. Never forget your art, sic itur ad astra ["thus one reaches the stars", from Book 9 of the Aeneid]."
La Vie des Champs is a vision to living, feeling, sensation and ambition, and the dynamic epicentre of art at the dawn of its modern crossroads.

<!-SSE PAGELINKSTART SSE->