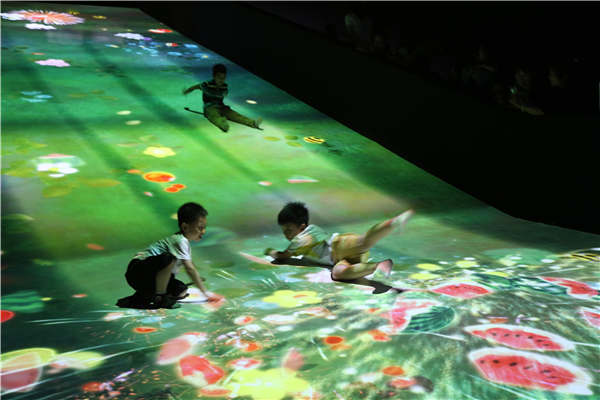 In anticipation of the upcoming Children's Day, Future Park, a child-friendly exhibition created by influential Japanese art collective teamLab, opened in Wuhan, Hubei province, on Sunday.
<!-SSE NEWSADSTART SSE-> <!-SSE NEWSADEND SSE->
The show consists of nine interactive digital installations, each of which requires the children to get involved with both the work and other visitors. Using technologies such as augmented reality, children can encourage plants and flowers to grow by touching seeds and leaves, or they can draw a colorful fish and watch it swim around their feet.
These types of installation are typical of Tokyo-based teamLab, an interdisciplinary collective that comprises more than 500 professional artists, designers, programmers and other technology specialists who produce interactive digital experiences combining art and technology. In the past few years, their shows across the world have attracted millions of visitors.
The Future Park exhibition is the first of its kind in China to target solely children, something that the art collective will continue to develop in the future to help improve children's visual education, according to Matsumoto Akitae of teamLab.
"We try to build a bridge between children's education and art, turning art into a fun experience," he explains.
In traditional museums, kids are less catered to, and art appreciation is always considered a more serious affair. To enable children to learn more about art through play, team-Lab set up its kids company five years ago with a remit to create exhibitions that were fun and child-oriented and to deliver experiences that would encourage children to move their bodies and cooperate with others, all while immersing themselves in art, explains Akitae.
The installation Story of the Time When Gods Were Everywhere uses pictographs to represent rain, fire, birds and animals. When kids touch these symbols, which are displayed on a large wall-sized screen, they change into animated images or short film plays, such as birds flying over a forest, chirping.
Liu Lingling, the mother of a 6-year-old boy, says it's the first time that her son has visited this kind of interactive exhibition. Apparently, he was very excited by an installation called Sketch Town, where he enjoyed drawing cars, houses and planes that, once drawn, change into rendered versions that children can interact with using their hands to make the planes fly, or cars move.

Liu's son seldom paints and does not go to museums, but Liu says she will return to Future Park with her son and his friends again.

"The show is to inspire children's imagination through art," says Yang Juze, founder of Shenzhen-based Blooming Investment, which organizes the show.

"There's not enough interesting activities provided for kids in China."

He adds that apart from taking children out to eat and to watch movies at the cinema, parents are limited in their choices for activities they can enjoy with their kids, stating that the need for cultural activities like Future Park is important, especially with China's economy increasing year after year.

Some five years ago, such interactive digital shows appeared in shopping malls and were not really regarded as art. Then the installations toured the world, receiving praise and growing in popularity and, as the art collective kept producing new works, people started to accept them as artists. Now, numerous galleries house teamLab installations, including Pace Gallery, and one of the collective's pieces fetched more than 1 million yuan (6,580) last year.

Next month, teamLab will open a museum in Tokyo devoted to its immersive and multidisciplinary art.

Future Park will run through Oct 21.

<!-SSE PAGELINKSTART SSE->