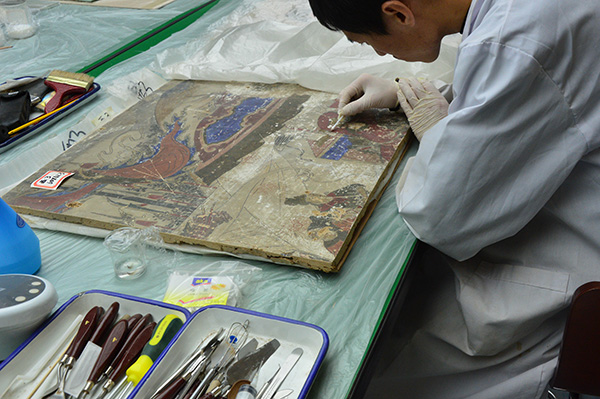 The private Xi'an Qujiang Museum of Fine Arts is a pioneering institution in many ways, especially when it comes to displaying murals. Chen Nan reports.
<!-SSE NEWSADSTART SSE-> <!-SSE NEWSADEND SSE->
In October 2011, when Zhou Tianyou took the position as the director of the Xi'an Qujiang Museum of Fine Arts, he had big plans for it. So, when it officially opened to the public on July 31, 2012, he curated an exhibition which displays ancient Chinese murals.
Titled Origin and History of Ancient Chinese Murals, the permanent exhibition set in a 1,000-square-meter hall, features 88 panels (67 of them original) from the Neolithic period to the Qing Dynasty (1644-1911).
With murals unearthed in Shaanxi province serving as the main foundation, the exhibition is also the result of partnerships with about 20 national museums and archaeological institutes from 13 Chinese regions and provinces, including the Palace Museum in Beijing, Liaoning Provincial Museum, Gansu Provincial Museum as well as the Gansu Provincial Institute of Archaeology.
At the museum, visitors can see murals, such as a piece titled Dancing Men from the Neolithic age from the Gansu Provincial Museum, a gold suit of armor dating back about 2,700 years and a 1-meter-tall stone Buddha head.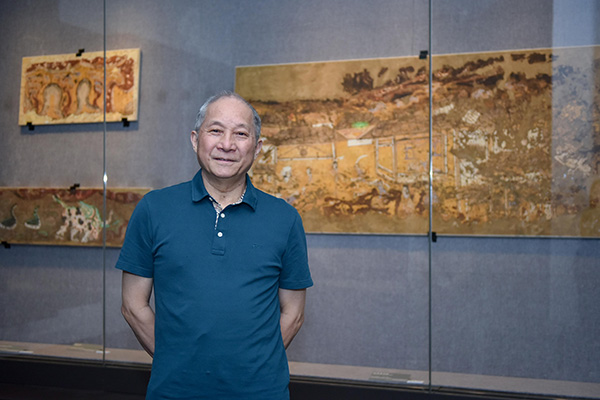 So, how does this kind of art display influence visitors?
Speaking about the exhibition, Zhou, 74, says: "When viewers see the murals, they not only appreciate the beautiful paintings, but also understand the lifestyles of people from different Chinese dynasties."
Pointing to two murals, which depict livestock trading from the Northern Wei Dynasty (386-534), he says: "The murals, which have vibrant scenes of daily lives, are a different way to communicate."
Murals have a long history in China, says Zhou, adding that the art form advanced remarkably in the Han Dynasty (206 BC-AD 220).
But he says that it reached its first peak in terms of style, technique and subject matter in the Tang Dynasty (618-907), when China enjoyed national unity, economic prosperity, cultural advancement and increased exposure to foreign cultures.
He says murals were a common sight in Tang imperial palaces, high-ranking officials' residences, and Buddhist and Taoist temples and caves.
And the murals portrayed a variety of subjects, such as mysterious creatures, animals, architecture, religion, as well as scenes of everyday life.
Speaking about the museum, he says: "Its function is to make history relevant for everyone who visits, and to make each individual think about how that knowledge can be relevant to their life. "Murals are easy to understand and they explain a lot," he says.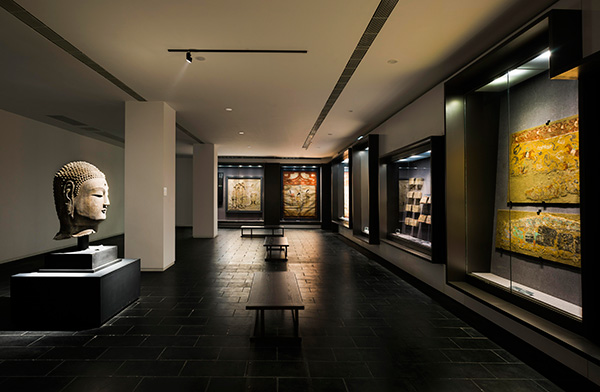 Meanwhile, Zhou also set up the Mural Conservation and Restoration Center at the Xi'an Qujiang Museum of Fine Arts, in cooperation with the Shaanxi Provincial Institute of Archaeology, to conserve, research, restore and exhibit ancient murals. And from 2010 to 2017, the center restored 16 murals from the Ordos Bronzeware Museum of Inner Mongolia autonomous region.

<!-SSE PAGELINKSTART SSE->