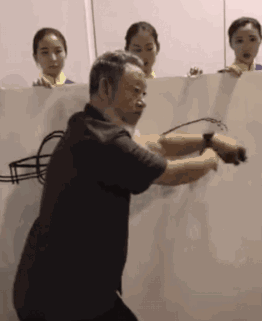 In traditional Chinese calligraphy, calligraphers dip brushes or pens in ink and write beautiful Chinese characters in skillful and artistic ways. Hoping to break free from the old styles, a contemporary Chinese artist has created a new form of calligraphy that involves squirting ink with syringes.
<!-SSE NEWSADSTART SSE-> <!-SSE NEWSADEND SSE->
The artist, Shao Yan, has named his style as "ink shooting". Shao has been in the spotlight after a video of him performing the avant-garde writing went viral online during last week.
In the video, the 56-year-old calligrapher was seen holding a handful of syringes while standing at one end of a paper scroll. As Shao started writing, spectators could be heard cheering, and the calligrapher performed a sudden dash and squirted streams of ink on the white canvas.
After seeing his writing, many netizens expressed confusion and disdain, refusing to accept "ink shooting" as a form of calligraphy while calling it a public stunt.
"Things that are too avant-garde will trigger reproach. That I totally understand," Shao told media outlet China News in response to online criticism. "They are ordinary people and do not understand what art is."
"Even some calligraphers don't understand either," Shao added. "But it is artists' mission to lead people's visual aesthetics."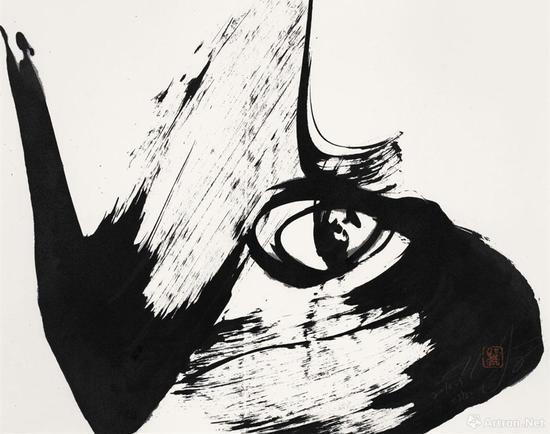 The artist explained that the video was shot last year, and "ink shooting" is nothing new but a unique style he has practiced for a decade.

Back in 2008, Shao suffered acute heart disease and was hospitalized. While staying in the hospital, the artist grew interested in syringes and decided to experience creating art with injectors as instrument.

"During my experience, I found the lines created by syringes were cylindrical and rich in volume. What's more, you don't need to stop and dip brushes into ink every now and then when you write," Shao said. "In this way, the flow of your writings and emotions is free and unhindered."

Before establishing "ink shooting", Shao practiced traditional calligraphy from a young age and won a few national awards. Being ambitious, the artist believed he had to surpass ancient calligraphy masters and win a spot for himself in the field.

Finding it difficult to break through, Shao shifted his focus to modern calligraphy and started innovating his own style, until he discovered the unconventional instrument of syringes.

"Don't try to define if my works belong to calligraphy or not. It is just 'ink shooting.' It is calligraphy, and it is more than that," Shao said. "And this concept is just for me. You cannot use it – otherwise you are just imitating me."

<!-SSE PAGELINKSTART SSE->