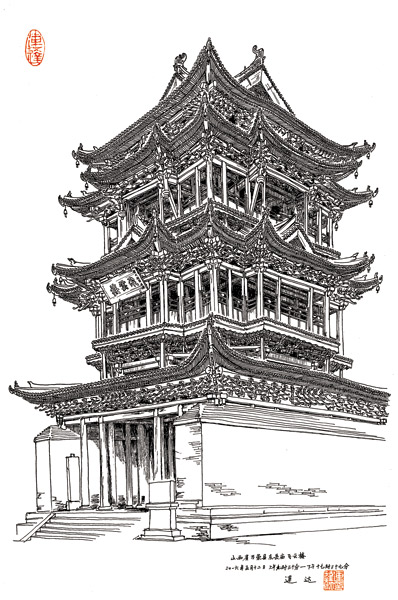 Wearing an umbrella hat and a dark blue outdoor jacket, Lian Da sits quietly on a tiny folding chair in the overgrown wilderness of Shanxi province. With a black pen and a whiteboard, he gazes at the relic in front of him for hours and sketches its remaining glory.
<!-SSE NEWSADSTART SSE-> <!-SSE NEWSADEND SSE->
Often accompanied by nothing other than the suspicious looks of passers-by, the mosquitoes buzzing with hunger, and occasionally a curious wild cat, Lian has devoted himself to this cause for almost two decades. Ever since his early 20s, he has traveled to Shanxi every year to record the fading ancient architecture there.
"They have been in existence for 1,000 years, but we have only four or five hours gazing at each other," says Lian, speaking of his motivation for enduring the hardship and solitude.
"The reason why I give priority to the collapsing ones is because I may not have the opportunity to see them any more. Time and tide wait for no man."
Lian's odyssey began in 1999, when the 21-year-old man first left his hometown in northeastern China to "see the world".
"Having not seen much ancient architecture growing up, I was instantly captivated when I first visited the historical sites," says Lian.
During his stop in Beijing, Lian met a stranger from Shanxi province whose inadvertent remark about the rich cultural heritage of Shanxi changed the course of his life.
Without a clear travel destination, Lian at once decided to go to Shanxi.
Partly in awe of the exquisiteness of the architecture, and partly because he could not afford a camera, Lian bought a pen and a notebook and started recording what he saw.
"It was more doodling than sketching," says Lian, explaining that he has had no professional training in painting or architecture.
Lian's drawing style is largely influenced by the picture story books which he often traced by hand as a child.
"I like the clean and neat line drawing style. It can highlight the main object of the scene, since the surroundings of the architecture can be chaotic," says Lian.
"As for the drawing techniques, I could only learn these from hard work and practice.
"I never aimed to go far in art. I always position myself as an ancient architecture enthusiast, and sketching is merely a way of expression.
"And rather than traveling for days to arrive at a historical site and leave in half an hour, I prefer sitting there for hours, just to keep it company."
Lian is constantly faced with people's incomprehension.

During his travels, he is often mistaken as a thief of cultural artifacts and is therefore shunned by villagers. And sometimes when the villagers refuse to drive him to the town center before dark, he has had to sleep in a dilapidated temple surrounded by coffins.

Even now, although his deeds have been publicized by various media organizations, he is sometimes attacked on the internet for being irresponsible for his family, while in fact, what Lian is most proud of is having a loving family that supports his cause - his wife Wang Hui in particular.

"We were in a relationship for seven years before getting married, and I took her to hike along the Great Wall many times.

<!-SSE PAGELINKSTART SSE->