As Chinese artist, Shu Yong, prepares to replicate his famous installation in Kazakhstan, he hopes the concept will open a dialogue between different cultures.
<!-SSE NEWSADSTART SSE-> <!-SSE NEWSADEND SSE->
With thousands of silk flowers blossoming and golden bricks glittering, Chinese contemporary artist Shu Yong's representative golden bridge will soon land in Kazakhstan, as he takes the artwork there in celebration of the Belt and Road Initiative.
Invited by the municipal government of Astana, the capital of Kazakhstan, Shu is going to construct a second piece of his Golden Bridge on Silk Road, and a square of the same name centered around the artwork.
When receiving Shu on July 6, Kazakhstan's President Nursultan Nazarbayev expressed his appreciation and support for this project, saying that he will choose an ideal spot in central Astana for its construction.
The first Golden Bridge on Silk Road is a large-scale art installation built in 2015, based on the broad narrative of the Belt and Road Initiative. Standing 28 meters long, 4 meters wide and 6 meters high, the work embodies the artist's yearning of bridging the communication gap across different cultures.
"In my opinion, the Belt and Road Initiative itself is a bridge that links China with the rest of the world," Shu says. "This installation symbolizes our hope for joint cooperation within the framework of the Initiative, the creation of a global community with a common destiny and shared interests."
The bridge is constructed with approximately 20,000 artificial amber bricks, embedded within are the floral emblems from countries and regions involved in the initiative.
"Amber is a material that could capture a precious moment, its color bearing auspicious symbolism in both the East and the West," Shu says of his material selection.
"The semi-transparent golden bricks present a scene of 'let a hundred flowers bloom', a Chinese expression for cultural diversity. I would like it to be immediately apprehensible that this is a peaceful, auspicious and valuable bridge, able to bring us all together."
Shu defines the piece as an "interactive sculpture landscape artwork", the element of interaction being one of the most important characteristics, with the intention of directly involving the viewers in a dialogue.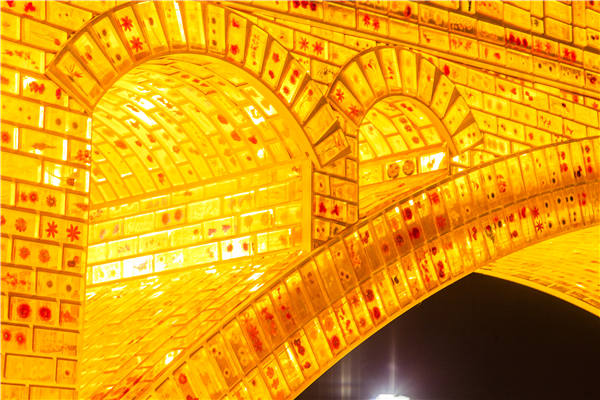 Ever since the piece was first publicly exhibited at the Milan Expo 2015, Shu has been inviting leaders of the countries involved in the Belt and Road Initiative, as well as representatives from all walks of life, to sign on the golden bricks.

"I want the bridge to be a collective creation by the entire world. With the signatures, the artwork links the individuals, the nations and the peoples."

The artwork is designed to be displayed outdoors, as Shu strives to bring creativity to the masses. Ever since the first Belt and Road Forum for International Cooperation in 2017, the original piece has been on exhibit in front of the China National Convention Center in Beijing, where the forum was hosted.

"I would like it to be seen by more people, so that the meaning and value of the initiative could be quickly grasped through the artwork. Only by returning to the broader public society, can the value of these works be truly realized."

<!-SSE PAGELINKSTART SSE->