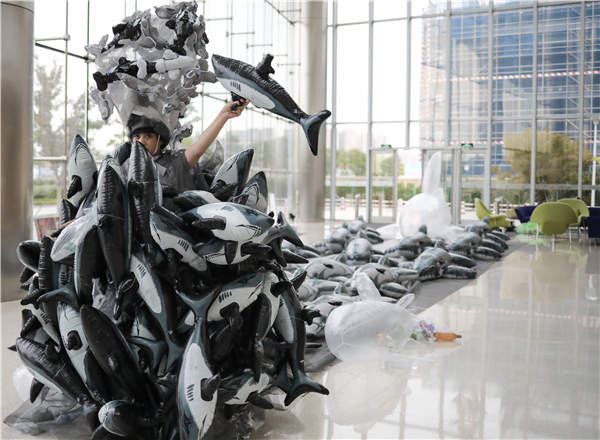 Fish Eating Plastic, an art installation showcasing the peril plastic poses to the ocean, was presented at Duke Kunshan University in Kunshan city in East China's Jiangsu province on Saturday.
<!-SSE NEWSADSTART SSE-> <!-SSE NEWSADEND SSE->
Chinese artist Kong Ning becomes part of the art by wearing the installation, which is composed of models of hundreds of marine animals in various sizes, including "sharks", "whales" and "dolphins". Among them, 30 small "sharks" shy away from the plastic garbage on a "reef" installed on Kong's head for survival, and 60 large "scary whales" surround Kong's body. A four-meter-long whale with dozens of plastic bottles in its belly is seen on the installation, which appears quite shocking.
"When making the art installation with students from the School of Environment at Duke Kunshan University, every one of us felt heartache. But this is just what happens to the ocean," Kong said. "Our ocean has been heavily contaminated."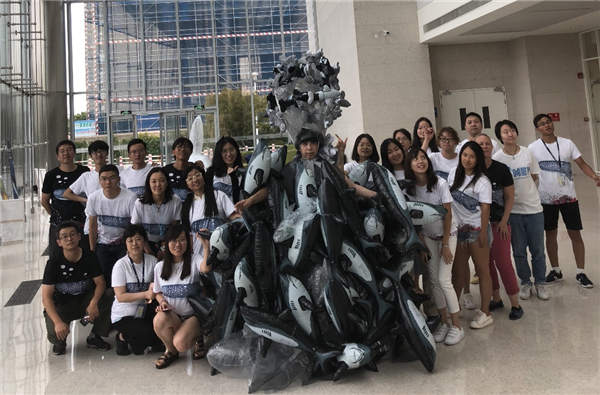 According to statistics, there are at least 8 million tons of plastic going to the ocean each year, which means that each minute a carload of garbage is dumped into the ocean. If the situation continues, by 2050 the whole weight of plastic will surpass that of fish in the ocean.
Kong said that through the art installation, she hopes to call on people to stop dumping plastic garbage into the ocean and to care for and protect our oceans.
The installation features one of Kong's artworks within the Little Blue Man global walking program, which is themed on protecting the earth, and has conducted performance art in several countries.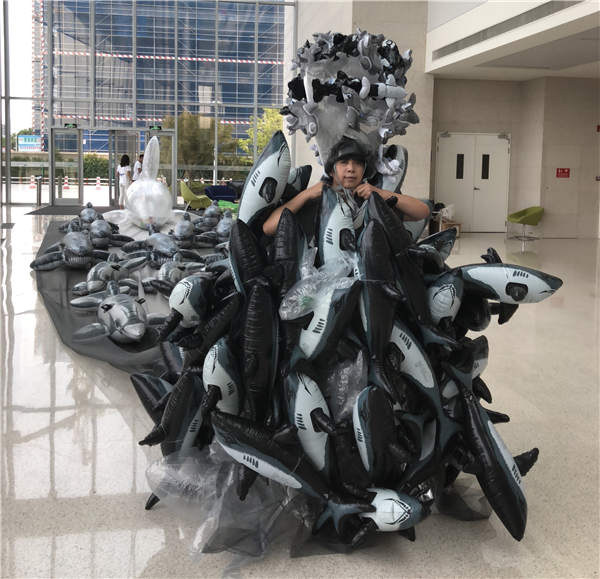 <!-SSE PAGELINKSTART SSE->