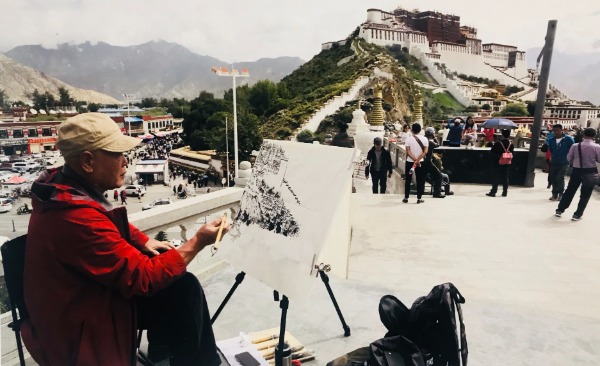 Li Xiaoke's artworks of Tibetan temples and life in western China are on display in Beijing, Lin Qi reports.
<!-SSE NEWSADSTART SSE-> <!-SSE NEWSADEND SSE->
Li Xiaoke, an artist from Beijing has spent the past three decades drawing inspiration from areas where members of the Tibetan community reside.
Li, 74, has captured the natural scenery and the people of the Tibet autonomous region, and the provinces of Qinghai, Gansu and Yunnan, in ink paintings he created during dozens of journeys he's taken since he first set out on foot in 1988. "A mysterious retreat that would haunt one's mind after you have left the place," is how he describes his visits.
Before that discovery, Li's main role was that of a student and an assistant to his late father and celebrated painter, Li Keran, whom he accompanied to social events and generally looked after.
But as Li Xiaoke began his trips to the Qinghai-Tibet Plateau, he also felt the pressure of his hailing from a prominent family easing. The areas helped him to develop an individual style of painting.
He likens painting to pilgrimage. "It is tough and yet simple."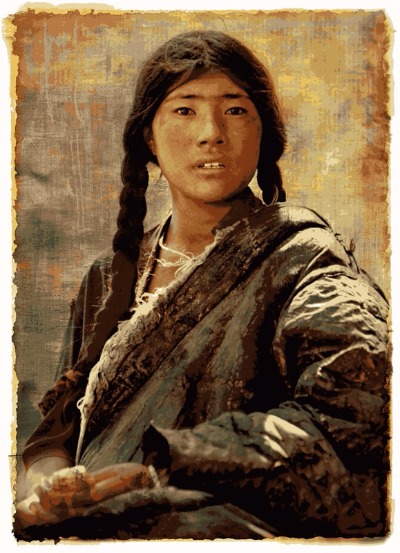 The viewers of his art can probably share this sentiment when visiting Zang Ji (traces in Tibetan areas), an exhibition now on at the gallery of Li Keran Art Foundation in Beijing, where paintings, prints and photos produced by Li Xiaoke reflect his intimate exchanges with those distant parts of western China through the years.
His paintings depict the signature monasteries of Tibetan Buddhism such as the Potala Palace and Drepung Monastery, both in Lhasa. He shows the local culture and natural scenery by applying layers of paint to ranges of mountains and temple structures in his artworks, where monks and pilgrims usually appear smaller at the bottom or in a corner.
His approach to composition when showing the relationship between humans and their surroundings follows that of ancient Chinese landscape artists: Figures are often portrayed in a small size, hidden among the mountains and water, almost merged with nature. This accords with an inherent spirit of Chinese art which espouses that people are always trivial in front of the power of nature.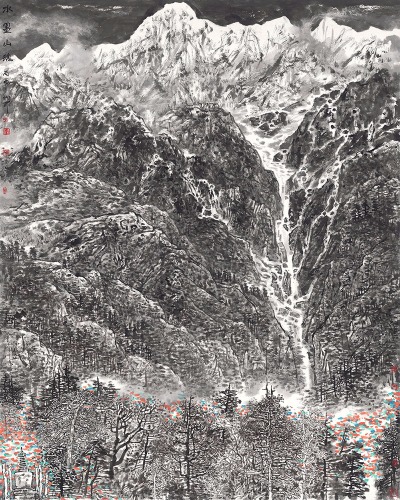 During his first journey to the Tibetan-inhabited areas, Li Xiaoke accompanied a photographer named Zheng Yunfeng to the mouth of the Yellow River in the Bayan Har Mountains in Qinghai. They carried a calligraphy scroll in praise of the river's grandeur that was written by Li Keran, and had the characters inscribed on a stele and placed it on the river bank.

Their travels in Qinghai in 1988 lasted some 45 days, during which Li Xiaoke was overpowered by what he calls the "purity of Tibetan lands and the innocence of the people".

<!-SSE PAGELINKSTART SSE->