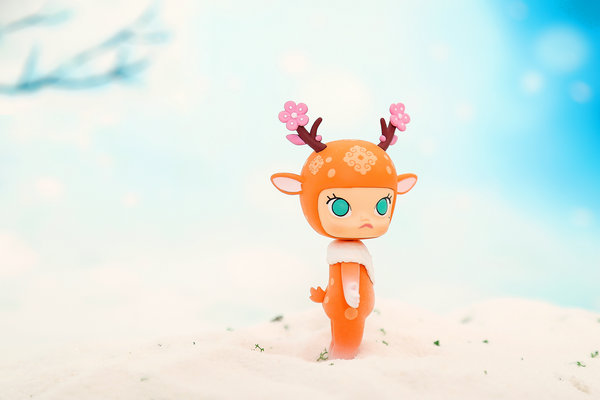 Passionate fans lined up eagerly at the Beijing Toy Show this month to buy limited-edition Molly dolls, the toy series featuring a blue-eyed little girl with a pout and curly short hair created by Hong Kong designer Kenny Wong.
<!-SSE NEWSADSTART SSE-> <!-SSE NEWSADEND SSE->
Wong has become used to superstar treatment whenever he has traveled in the past two years in cities across China for launch events of these limited editions.
"I felt that the number of my fans increased tenfold after I was introduced to the Chinese mainland in 2016," Wong said.
The booth selling the dolls in Beijing featured Molly in various guises, such as in Wonder Woman's signature outfit and Molly posing like Hello Kitty.
Yearly revenue from sales of these dolls, which cost 59 yuan each, reached more than 200 million yuan ( million) on the mainland last year, according to Pop Mart, Molly's licensee partner.
Molly's popularity has kept pace with the sizzling mainland market for designer toys. They first appeared in Hong Kong in the 1990s and then spread worldwide. Such toys are designed for adults, and attract fans mainly through images, rather than stories such as those from comic books or animations.
Wong retains Molly's signature wide blue eyes and pout for all the dolls, but changes all the other elements, such as colors, clothes, poses and accessories, for different series.
He designed a Journey to the West series with Molly cosplaying key characters that included the Monkey King from the classical mythological novel published 400 years ago, and he also has a series of the 12 Chinese zodiac animals featuring Molly's face.
Wong attributes the emergence of designer toys in Hong Kong to the city's street culture, such as graffiti and hiphop. Such elements were largely used in the action figures created in the late 1990s by Michael Lau, regarded as the first designer toy creator in Hong Kong.
Influenced by these pioneering designers in the city, Wong started to make figures in 2000 with his friends after work. Their prototype, the Brotherworkers series, was inspired by construction workers.
"At that time, Hong Kong was a fast-changing city with lots of construction workers everywhere on the streets. I wanted to mold these grassroots people," Wong, 50, said.
His work quickly gained Wong fame. In 2006, he resigned from his job as an illustrator, set up his own company and created Molly the Painter, his signature work.

The idea for Molly came from Wong's experience in drawing portraits of children at a charity event. To make them keep still for his portraits, he asked them to sit down while he painted.

Wong said all the children were pouting because it appeared they were not satisfied with his work.

But their expressions impressed him. When he asked one girl her name, and she replied "Molly", he formed the idea for Molly the Painter.

In his early days, Wong was a boy with few words. He often sat in a corner pouting and painting quietly.

"I hope Molly can be a good companion to her owners when they feel lonely, " he said.

Does Wong feel the heat of the red-hot market among his fans?

"I think it's a promising market with more and more Chinese designers joining in," he said, adding that the large number of art colleges in the country provide a good advantage for the market in terms of designers.

<!-SSE PAGELINKSTART SSE->