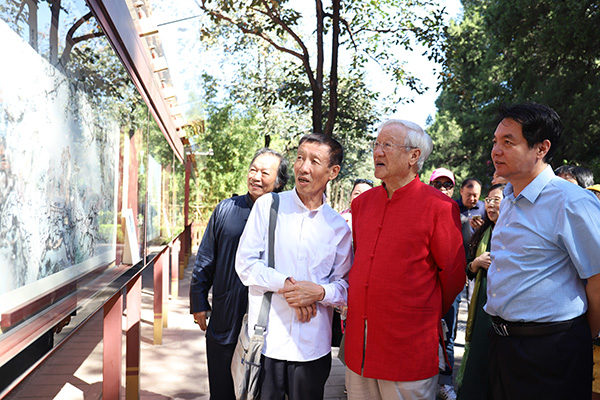 In commemoration of the 40th anniversary of China's reform and opening-up, an exhibition recently opened in Jingshan Park, showcasing the paintings and calligraphy works of Chinese master artists.
<!-SSE NEWSADSTART SSE-> <!-SSE NEWSADEND SSE->
Over 30 artists from top Chinese art institutes, including the Chinese Calligraphers Association, the China Artists Association, and the China Central Institute for Culture and History, were invited by the park to create artworks onf Beijing's Central Axis.
National first-class artist, Fu Zhenming, said, "With brushes and ink, we commend the sublime Central Axis. With this exhibition, Jingshan Park supports the Central Axis' application for the World Heritage List."
The final works displayed the achievements made during the 40 years of reform and opening-up through the different aspects of the Central Axis, ranging from its history and scenery, to culture and development.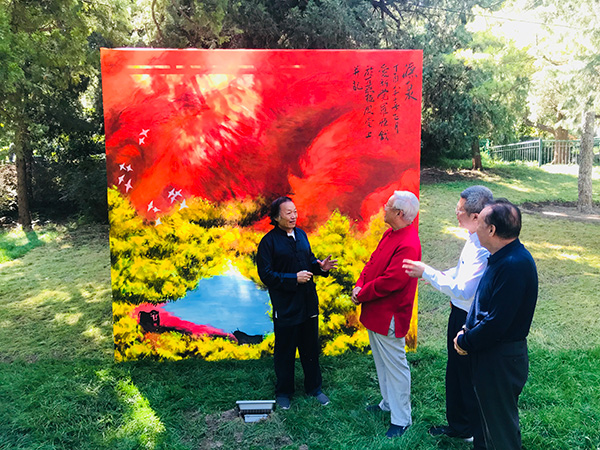 According to Cong Yipeng, the director of Jingshan Park, this exhibition abandoned the conventional indoor display method. Instead, all the artworks are displayed along the pathways of Jingshan Park with the support of modern technology.

With solar-powered display boards set up along the pathways, for the first time, visitors are able to enjoy both classical Chinese art and natural scenery of Jingshan Park.

Among the artworks are 10 large-scale landscape paintings re-created with multi-dimensional light technology, thus appearing luminous and vivid at night.

A range of artworks centered on the Mid-Autumn Festival depict people's lives in the new era, through the representation of the Central Axis scenery, Beijng's urban landscape and the full Mid-Autumn moon.

The exhibition is part of a series of cultural events, including lectures and concerts and aims to offer the public a new space for cultural exchanges at Jingshan Park

<!-SSE PAGELINKSTART SSE->