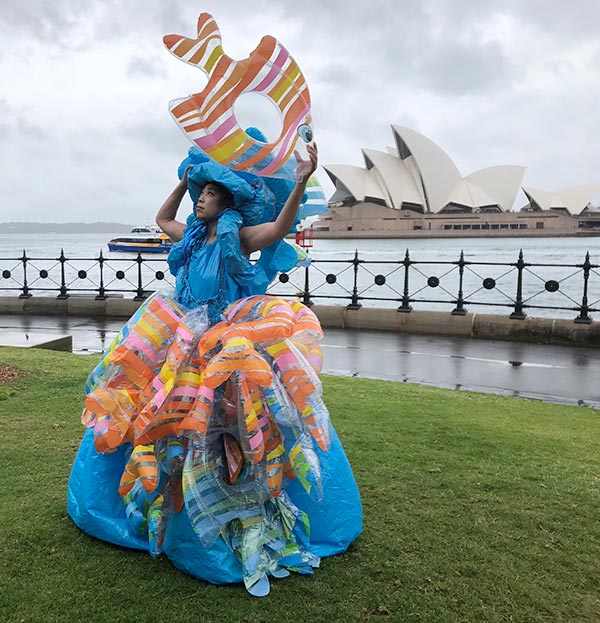 Chinese artist and environmental activist Kong Ning showed her installation artwork Lifesaving Batfish in Australia recently, which advocates people to protect all the living things in the ocean, and stop the flow of plastic into the ocean.
<!-SSE NEWSADSTART SSE-> <!-SSE NEWSADEND SSE->
Kong first held her behavior art at the Gold Coast in Australia on Oct 5 wearing the special-made dress Lifesaving Batfish, and then went to Sydney on Oct 7 to conduct her art in the rainy day. She said, "Rain is fish crying in the ocean, and I hope to comfort the dead in the ocean with a sense of guilt".
As Australia is surrounded by ocean, the ocean protection is more urgent here, a large amount of plastic garbage is causing fish to suffocate and die.
Kong Ning said she wore the plastic wedding dress to tell people that plastic is gorgeous yet violent. The colorful "batfish" on her dress symbolizes colorful life ring, which is expected to save marine organism threatened by plastics.
This installation is one of Kong's artworks within her Little Blue Man global walking program, which advocates green value and protecting the earth. She has taken the art to several countries such as France, the UK and Monaco.
Kong said the "little blue man" symbolizes that life should be like a drop of water, which comes quietly and leaves quietly, adding no weight to the earth. She hopes to boost the nature's trust on human being and human being's love for the nature through her behavior art, as protecting the earth is something that is closely linked with everyone.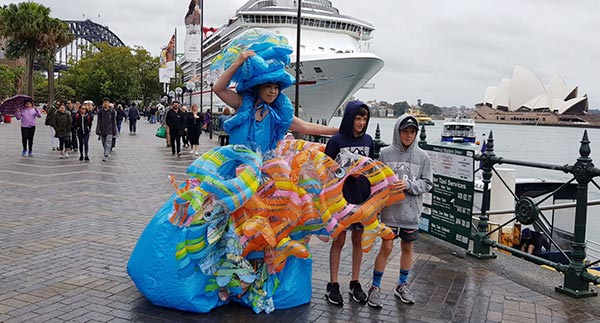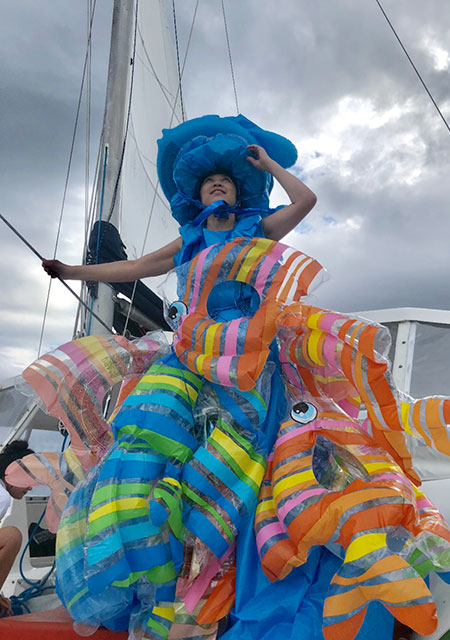 <!-SSE PAGELINKSTART SSE->