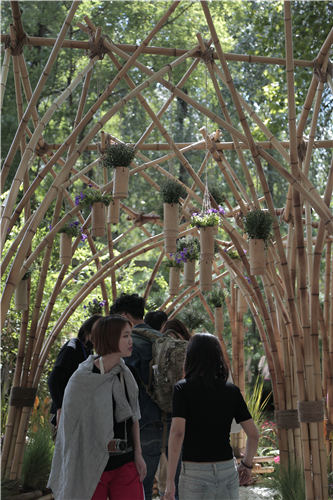 A bamboo-gardening competition aims to inspire students' passion for design innovation, while cultivating young talent to fuel the nation's environmental industries.
<!-SSE NEWSADSTART SSE-> <!-SSE NEWSADEND SSE->
"We'd rather eat without meat than live without bamboo," is how the poem by Su Dongpo-one of the most popular poets of the Song Dynasty (960-1279)-explains the Chinese affinity for bamboo.
The spirit of "constructing a human's homeland by melting into nature" was passed down to some modern-day youngsters, when a group of college students built their own mini bamboo gardens in the heart of Beijing recently.
Embraced by bushes and flowers, people in groups of two or three, sat on futons in the middle of a Moebius strip constructed from bamboo at Beijing Forestry University, chatting and drinking tea. The mottled shadow of leaves was cast on them and the aroma of flowers and grass filled the air.
By brainstorming, designing, modeling and eventually actually building their creations, landscape architecture majors got a chance to make their inspirations become reality at the first BFU International Garden-making Festival, held in Beijing from late September to early October.
Candidates were asked to use only bamboo and herbs. A total of 353 teams composed of 1,677 students from 112 universities worldwide attended the event. Only 15 designs were selected to be transformed into actual gardens, each occupying no more than 16 square meters.
Bamboo has, for a long time, been widely used in buildings in Asia, Africa and Latin America, according to Li Zhiyong, deputy director-general of the International Network for Bamboo and Rattan, co-organizer of the event.
"Bamboo is closely connected with our life," Li says.
The event aims to inspire students' passion for design, encourage innovative ideas, enhance the teamwork and develop the practical abilities of students. It's also meant to cultivate talent for the nation's green and environmental industries, according to An Lizhe, president of Beijing Forestry University, one of the organizers.
The students' creative ideas are diverse, as can be seen in the gardens displayed.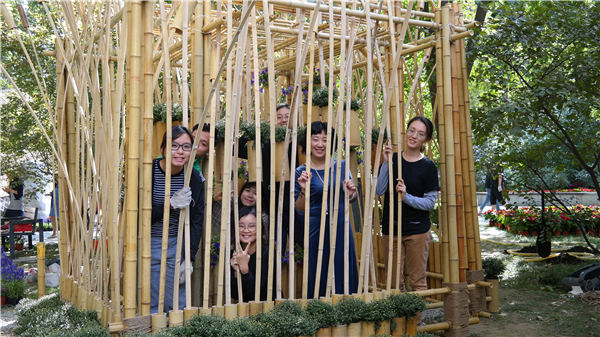 A ball-like bamboo structure with a split that serves as its entrance and a central light hanging from the top attracted many viewers' attention. According to the design team, the ball resembles an empty heart and the bamboo chips, in their disorder, are like messy hair-just what students majoring in architecture look like after staying up late to do homework. It is said that architects are among the professionals who sleep the least.

The breach in the spherical design appeared by accident, but they built on the idea and turned it into a unique and fun design, Chen Du, one of the team members who created the work, was quoted by China Science Daily as saying. The entrance seems like a gate to Shangri-La where visitors can enter and lie down in the curved space.

Another work, named Winding River and Flowing Mountain, connects bamboo tubes like nerve tissue, so that visitors can walk through it, appreciating the beauty of its geometric design.

Wang Ruofei, from the Central Academy of Fine Arts, says the team drew inspiration from an ancient Chinese drinking game, qushui liushang, in which intellectuals would sit by a little winding creek and make a cup float on it. They then took turns to drink and chant poems when the cup floated to them. It reflects the free-spirited, yet elegant, lifestyles of ancient Chinese intellectuals.

<!-SSE PAGELINKSTART SSE->