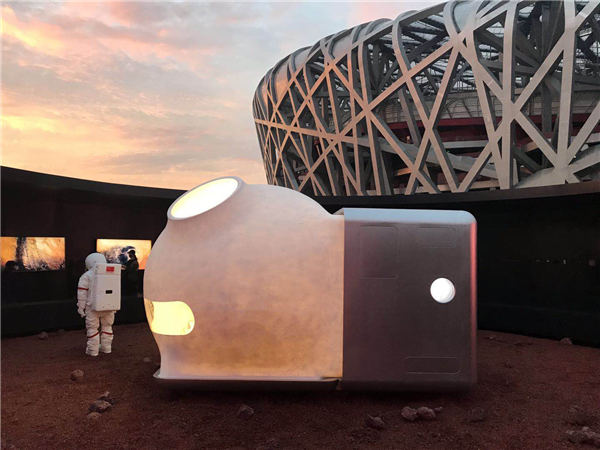 When humans are forced to settle down on Mars, might we at last start to think about the way we live on Earth? With this question in mind, architect Li Hu has designed a suitcase-like house to explore how people could have minimalistic lifestyle that only meets the essential requirements for survival.
<!-SSE NEWSADSTART SSE-> <!-SSE NEWSADEND SSE->
The about 4-square-meter house, on display at China House Vision exhibition in Beijing, discusses future houses and comprises two parts: a hard case that includes the kitchen, toilet, bathroom and air conditioning unit, and an inflatable ballon-like living space used for activities such as reading, drinking tea, doing exercises or enjoying the landscape through windows.
"That's enough," Li says.
He calls it the "Mars case" to imagine a future where people will view or "use" their houses as conveniently as suitcases. All the resources in such a house are visioned to be recyclable - air, water, energy and even waste.
Kenya Hara, curator of the exhibition and a well-known designer, says Li's exhibit rethinks the concept of home under an extreme situation, with "a sense of science fiction".
The architect assumes a future situation when people are forced to migrate to Mars as the Earth would not be able to support them further. Li started the project last year.
"It criticizes society for its consumption and materialism. In fact, the project is aimed at giving people a warning about their lifestyles. I hope it never happens that one day we have to settle down on Mars," says Li.
The architect says he promotes minimalism and an eco-friendly lifestyle. He rides a bicycle to work in Beijing where he established Open Architecture's office in a hutong (alley) in 2008. Previously, he worked as a partner at Steven Holl Architects in New York, where he also commuted similarly to work.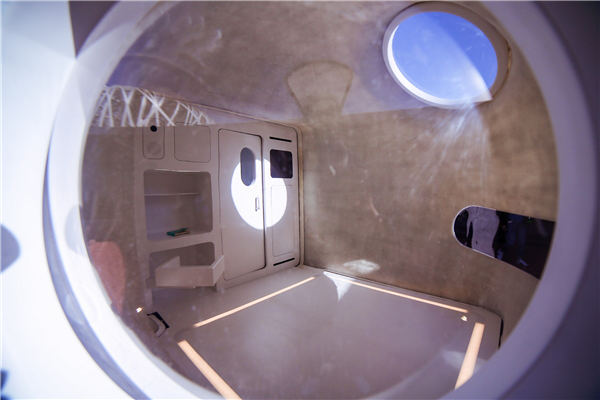 For Li, home is a place for people to do private things, such as sleeping and taking a shower. Other functional areas can be shared.

"I think people's houses are too big and there are many wasted spaces," Li says.

Besides the vision of living on Mars, the project also explores small housing, especially in big cities.

Li says his "Mars case" can be used by young people, who have just finished college and joined new jobs, as a model for affordable housing. He even infuses a romantic sense to the case that people may realize their nomadic lifestyle by putting the case on a car and move freely around the world.

But the model is "still a prototype", he adds.

"Architecture is a way for me to solve problems that I care about. I keep coming up with questions and allow people to find answers through my works," says Li.

Li is known for his innovative architect in China, such as the UCCA Dune Art Museum in Qinhuangdao, Hebei province, and the Tank Museum in Shanghai. He is also working on a building for a tech company in Shenzhen, Guangdong province, that is designed on the concept of "villages in urban areas", a local style of community used to be common in Shenzhen during its urbanization.

<!-SSE PAGELINKSTART SSE->