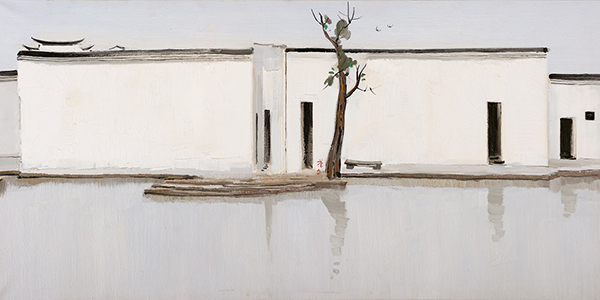 In many people's minds, there exist two ways to discover picturesque Jiangnan, on the southern bank of Yangtze River. One is to view the landscape in real life and the other is to view the paintings of the late modern master Wu Guanzhong.
<!-SSE NEWSADSTART SSE-> <!-SSE NEWSADEND SSE->
Wu, a native of Yixing, Jiangsu province, in the heart Jiangnan, recreated the natural beauty of the region he had been familiar with since childhood in such a way that it evokes a poetic resonance in a viewer, rendering his works with a classic charm.
Two paintings from Wu's Jiangnan landscape series will go under the hammer in Beijing on Thursday as part of a sale by Poly International Auction. Both titled Twin Swallows, the paintings are of the same size and present the same composition, but in different mediums: one is a classic Chinese ink piece completed in 1988 and the other is oil on canvas, and was completed six years later.
The two works, both 70 by 140 centimeters, depict the same serene scene, in which a couple of swallows fly over a stretch of riverside and houses built in a typical Jiangnan architectural style.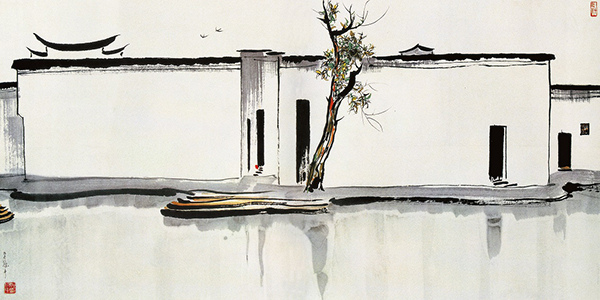 The composition looks as simple as one can find in many landscapes of Wu's oeuvre. It is divided into three parts, the reflective water, the rectangular residential buildings and the gloomy sky-in which one could easily miss the two flying swallows whose size is relatively small compared with the paintings' other subjects.

The color palette of the two pictures is light. Wu smeared the river and the sky with a subtle degree of gray and, at the center of the paintings, he outlined several conjunctive white walls, a distinctive feature of the Jiangnan architecture. He only dabbed some green, red and yellow on a tree standing by the river, bringing about the only vibrant aspect to an overall sad or serene effect that engulfs the two paintings.

According to Wang Luxiang, a researcher at China National Academy of Painting in Beijing, Wu began exploring the Jiangnan motif after he attended classes given by art professors of the former Soviet Union in Beijing, in the early 1950s. Wu, a graduate of oil painting at the prestigious National High School of Fine Arts in Paris, then taught at the Central Academy of Fine Arts in Beijing.

Wang says Wu had heard the Soviet-era lecturers say that Jiangnan was not a suitable subject for oil painting, because, unlike Europe, it rained heavily throughout the year in the region, thus the architecture and the views were drab, and it was difficult to distinguish the land and the sky, both awash with gray.

"In much disbelief, Wu began traveling frequently to Jiangnan from the 1960s onward," Wang says. "He sketched and experimented. He wanted to find an approach to depict the poetry and elegance unique to Jiangnan that could be presented in both Chinese and Western forms."

Wu finally found it after a two-decade effort.

"He succeeded in choosing a grayish silver as the dominant tone of his palette. He was inspired after his long gazes at local houses.

"He also found in the structure of these buildings the clean-cut combination of dots and lines. His paintings show a brilliant combination of a lot of lines, large areas of white space and dots, with reduced details," Wang says.

The greatness of Wu's Jiangnan landscapes is that he was able to balance sense and sensibility by juxtaposing the energy of nature and the power of man-made structures and forms, he adds.

<!-SSE PAGELINKSTART SSE->