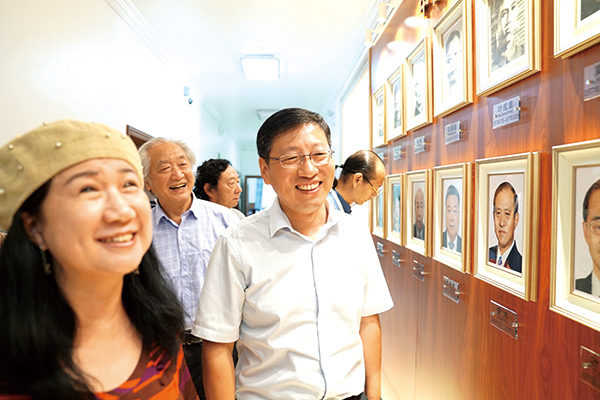 Eight Chinese painters on art and culture exchange program use their talent, techniques to enrich creative ties. Wang Yuke and Yang Han in Yangon, Myanmar.
<!-SSE NEWSADSTART SSE-> <!-SSE NEWSADEND SSE->
As a 10-day art and culture exchange visit to Myanmar drew to a close, participating artists presented brilliant watercolor works inspired by the Buddhist country.
Myanmar: Through the Dragon's Brush, an art and culture exchange program organized by China Daily and the Chinese Culture and Art Association, brought the work of nine Chinese artists to four major cities in Myanmar-Yangon, Mandalay, Bagan and Inle Lake-where they told tales of the country with brushes and canvas.
The 32 finished works exhibited on the trip's last two days were well received in Yangon, managing to capture the multilayered characteristics of the country-sacred and traditional, also humble yet modern.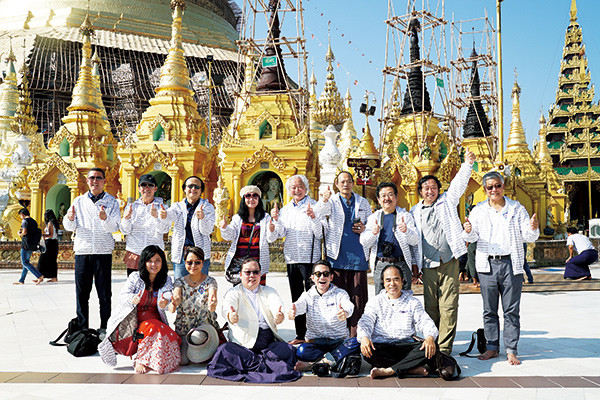 Upon arrival in Yangon on Nov 14, the group was warmly welcomed by Argus Ang, chief executive of RVi Group, a main supporting organization for the exchange program.
Over the next two days (Nov 15-16) in Yangon, the artists visited the landmark Shwedagon Pagoda and held a sketch session at Kandawgyi Lake, which offered a distant and panoramic view of the pagoda. They also visited U Lun Gywe Art Gallery, for a glimpse into the local art forms, styles and genres.
The glittering gilded stupa, being renovated manually, stopped the artists in their tracks. They also marveled at the Myanmar people's faith in their religion.
A highlight during the stay in Yangon was a meeting with Hong Liang, the Chinese ambassador to Myanmar. Acknowledging that the China-Myanmar art exchange trip helped artists from both sides to find common ground creatively, Hong shared with the artists what the embassy has been doing to bolster cultural ties between Myanmar and China.
Apart from the opening in July of the China Cultural Center in Yangon, the embassy has held concerts, grand shows and exhibitions in collaboration with national and provincial art institutions from China.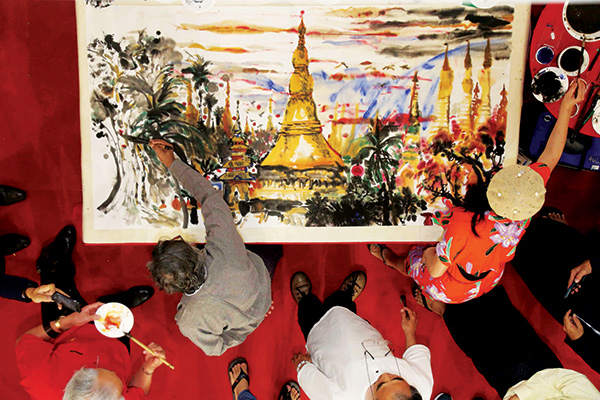 The embassy envisions launching another art center in the near future-in Myanmar's capital, Naypyidaw. It is projected to be 15,000 square meters, much larger than the current center in Yangon. "We hope the art centers in Myanmar will serve Chinese artists as 'free galleries' that they can make full use of to exhibit their great works of art," said Hong.

Pleased to see that regular art performances and exhibitions have attracted curious locals, Tian Shanting, cultural counselor at the embassy, declared that the newly opened art center will "open to the public every day, with cultural activities available every week and highlight programs every month".

Although art is emphasized in Myanmar, the country's art has remained obscure on the world scene. Hong put this down to the country's instability, which had subdued the people's creativity. He hoped the two-way communication on art between China and Myanmar could "help fuel the dynamic of creating art and prompt local artists to unleash their potential".

<!-SSE PAGELINKSTART SSE->