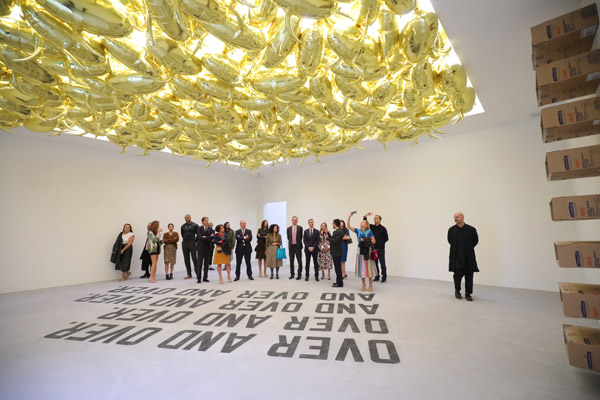 Italian artist and curator Maurizio Cattelan is known for his approach of using elements borrowed from elsewhere in his own creation to discuss the relationship between originality and copying. His works are often collages of elements from historic events, cultural phenomena and social news. He challenges people's existing opinions and provides a novel perspective on what's happening in the world.
<!-SSE NEWSADSTART SSE-> <!-SSE NEWSADEND SSE->
Cattelan says his practices have always centered around the belief that "copying is an act that can bring originality". He says that there is a difference between the acts of copying and replicating. He explains that while a copy "maintains a relationship with"-and may likely enrich-the original, a replica adds nothing new and is simply identical.
Cattelan stresses this belief at The Artist is Present, an exhibition he has curated at Yuz Museum in Shanghai. Ironically, the name itself imitates artist Marina Abramovi, who in a 2010 exhibition with the same title, sought to show how the artistic concept is more important than the medium through which it is conveyed.
The show, which will end on Sunday, is jointly presented by the Shanghai museum and the Italian fashion brand Gucci.
The exhibition brings together more than 30 artists from around the world whose work is being displayed in 17 rooms on the museum's first floor, which was remodeled just for the show.
Visitors enter each of the rooms and are introduced to different ways of copying, as the featured artists provide their takes on things that already exist, in a bid to provide people with a new perspective of the world.
It is a mind-transforming journey, according to Cattelan, who's own works are also featured. He says it is to redefine some of the ideas that seem natural to people and to break some of the rules that are supposed to be followed.
The diverse backgrounds of the artists adds intellectual depth.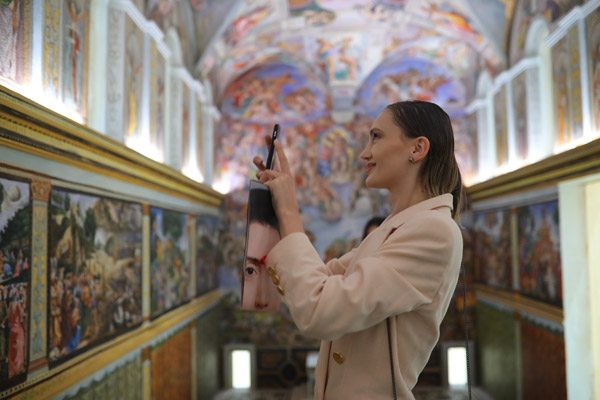 Canadian artist Kapwani Kiwanga, for example, bases her work on the methods of anthropology and comparative religious studies, which she majored in at university before becoming a career artist. She is showing Pink-blue at the exhibition, a work she created in 2017 in which she appropriated theories on the influence of colors on human behaviors.

The piece-more of an installation-turns a passage at the exhibition's entrance into a surrealistic space. People walking through it are immersed in pink and then blue fluorescent lights.

Earlier research found that if people are exposed to pink, they are less prone to violence. Blue not only calms people down but also makes it difficult to see the veins, prohibiting the injection of drugs. The color combination can be found painted in prisons, detention centers, psychiatric hospitals and public toilets around the world.

Kiwanga copies these special environments at the exhibition, asking the question: Do these colors cause inhibitory effects? She says that, if they do, it leads to another question: Will the influence be long lasting or only temporary?

Some artists shown at the exhibition, such as Shanghai-born Xu Zhen, address the subjects of East-West exchanges and globalization.

Xu is a well-established contemporary Chinese artist with a growing international reputation. The 41-year-old has won recognition for his distinctively huge installations. He remodels ancient Chinese and Western sculptures displayed at museums worldwide and pieces them together to form a new work.

Xu's contribution to the show, Eternity, is composed of copies of headless Buddhist statues from ancient China and statues originally located on the facades of the Parthenon in Greece. His placement reflects a sophisticated balance of the shapes, colors and styles of two different forms of art. He presents the clashes between Eastern and Western civilizations.

Xu says: "Only when one truly accepts the culture he or she was born into, can he or she understand that culture has no borders."

At the exit of the exhibition stands one of Cattelan's works-a paper wall re-creating the view of the famous Hollywood sign and its surrounding area where people can take photos before leaving. It's an example of the artist's sense of humor, as he examines the phenomenon of people sharing photos on social media.

If it is the act of showcasing that matters the most, why bother visiting the real spot if there is a lifelike copy closer to home? Cattelan leaves it open for the visitor to answer such questions and draw their own conclusions.

It can be a start, he says, for when they return to real life, where copying is everywhere, they will see the world in new dimensions.

<!-SSE PAGELINKSTART SSE->