Potential pop idols eyed by entertainment companies
<!-SSE NEWSADSTART SSE-> <!-SSE NEWSADEND SSE->
Swinging her arms and dropping to the floor, 17-year-old Yu Yangzi turns around, looks into a mirror, and smiles.
For five hours a day, Yu repeats dance moves in a classroom near Beijing's East Fifth Ring Road. She also receives at least an hour of vocal training, exercises to strengthen her body and jogs to help stay trim.
"I have to lose 5 more kilograms in two weeks," said Yu, who is 1.68 meters tall and weighs 53 kg. "Dilraba is about my height and she only weighs about 46 kg." Yu is referring to Dilraba Dilmurat, a 26-year-old actress from the Xinjiang Uygur autonomous region, who is one of China's biggest stars.
Yu, who was born in Changchun, Jilin province, arrived in Beijing about three weeks ago to train with two other young women, 21-year-old Meng Huan and 20-year-old Yu Ziyu, both students at Zhengzhou University in Henan province who are majoring in Chinese folk dance.
Unlike Meng and Yu Ziyu, Yu Yangzi does not have a professional dance training background, and has started to learn from scratch.
"The most challenging and painful class involves stretching my arms and legs. I cried several times because the pain is really hard to bear," she said.
The three women are trainees with I.E.One Entertainment, an agency that trains young Chinese dreaming of entering the country's highly competitive pop industry.
Yu Yangzi applied for an audition with the company because she is a big fan of the six-member boy group TimeZ, who were signed by Si Jie, the company's founder and owner.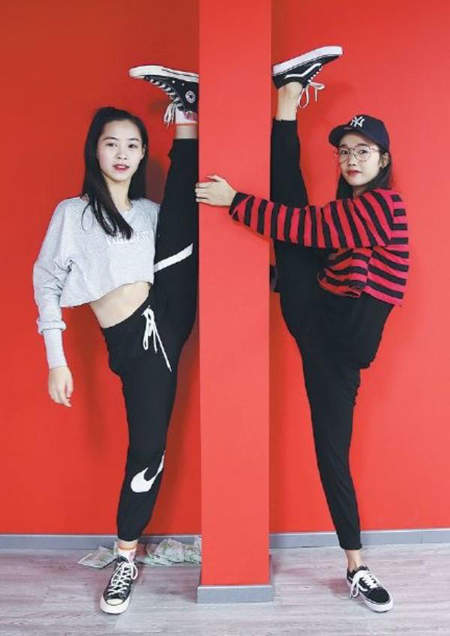 An increasing number of Chinese entertainment companies and agencies are recruiting youngsters wanting to become pop idols. This is due to the influence of the multi-billion-dollar K-pop industry in South Korea, which has global appeal.

These young potential idols, known as lianxisheng (trainees) in Chinese, live in dormitories and train intensively together, often starting when they are teenagers. However, despite all the efforts they put in, there is no guarantee that they will make it to the big time, either as soloists or as groups.

"I have loved singing and dancing since childhood and I wanted to give this a try," said Yu Yangzi, adding that her mother was the only one in her family who supported her goal of becoming a singer-dancer. "But since I really want to do it, they've all agreed."

Five singles released

Unlike the three women with I.E.One Entertainment, who are just starting their training, the six boys in the pop group Boy Story have already built a fan base, not only in China but globally.

Produced by the K-pop label JYP Entertainment, its China subsidiary NCC Entertainment, and Tencent Music Entertainment, the Boy Story lineup is Jia Hanyu, 14; Li Zihao, 14; He Xinlong, 13; Yu Zeyu, 13; Gou Mingrui, 12; and Ren Shuyang, 11.

After two years of training in South Korea, they have released five singles since last year. One of their songs, Enough, which is hip-hop based, has received nearly 3 million views on YouTube since being released in September.

<!-SSE PAGELINKSTART SSE->