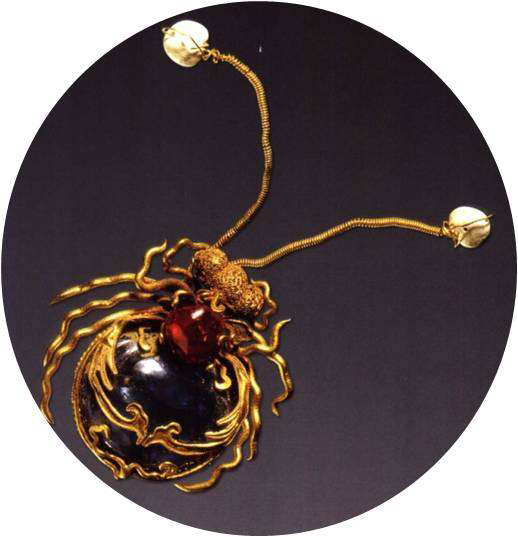 For linguistic reasons, animals and insects have had a strong influence on the way Chinese see and portray life
<!-SSE NEWSADSTART SSE-> <!-SSE NEWSADEND SSE->
There may be very few people who were more bent on filling their lives with auspicious cultural symbols than the Qing Dynasty Chinese. And to do so, they drew extensively from their millennia-old language, pairing two words with identical or similar pronunciations.
One prominent example is the bat, or fu, whose shared pronunciation with the Chinese word for fortune means that the animal has plenty of reason to expect more than a dark, damp cave. And the bat was indeed everywhere, from painted wooden corridors and window frames to embroidered clothing and even gold or gilt silver hair accessories.
If other animals have found the elevated status of bat enviable, then they may have long developed the same feeling for the katydid, a green grasshopper-like insect that loves to chirp by rubbing its wings. The Chinese name for this little thing, guo guo, could be easily mistaken for ge ge, or brother. This is especially true for those in southern China. Keeping in mind that 100 years ago - and even today in certain less developed parts of the country - sons were much more valued than daughters, the insect endeared itself with all who longed for an heir, even though in most cases there was next to nothing to inherit.
Yet the katydid is by no means the only insect our ancestors found auspicious. Another was the butterfly, hudie, or die. In addition to the butterfly's beauty, the similarity in pronouncing hu and fu has made it an iconic image in Chinese culture. (It is believed that Empress Dowager Cixi, the de facto ruler for more than four decades during the late Qing period between mid-19th century to early 20th century, loved the creature so much that she ordered her clothes and quilts to be heavily embroidered with 100 fluttering butterflies.
There may be another reason. The co-appearance of a cat (mao) and a butterfly (die) denotes longevity, as "mao die" applies to a man in his 80s or 90s. On second thoughts, the connection between the fragile winged insect and the notion of having a well lived-out life is indeed extremely tenuous, given the former's short life span.
But who cares? As long as they sound the same.
The spider must have agreed. With just a slight difference in intonation its Chinese name zhi zhu can also mean being content, a philosophy of life and an ideal mental condition that most would wish for themselves. Therefore, the long-legged insect became a widely used decorative motif for women's hair accessories, although the same lady might have shrieked at the sight of a real spider.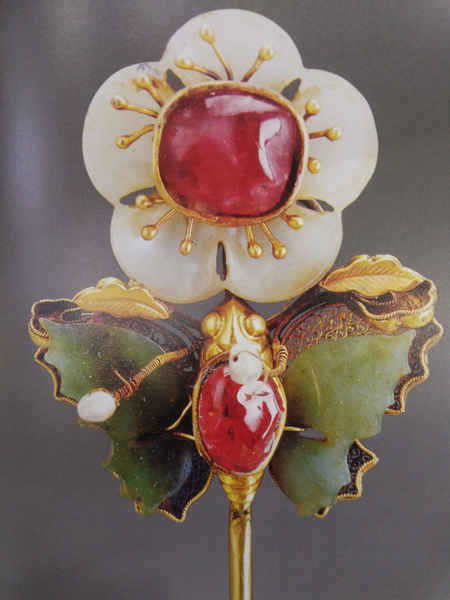 Despite all the aforementioned examples, pronunciation does not constitute the sole bridge between a certain animal, plant or object and an auspicious meaning that might be read into it. The image certainly counts.

Take again the spider for example, descending from its web with a silver thread attached to the rear, it reminded people of heaven-sent luck, a fact that only enhanced people's liking of it.

Both the gourd and the pomegranate were potent symbols of fertility during the Qing era. The former was chosen because of its meandering, seemingly unseverable vines, the latter because of its clusters of juicy, gem-like seeds.

<!-SSE PAGELINKSTART SSE->