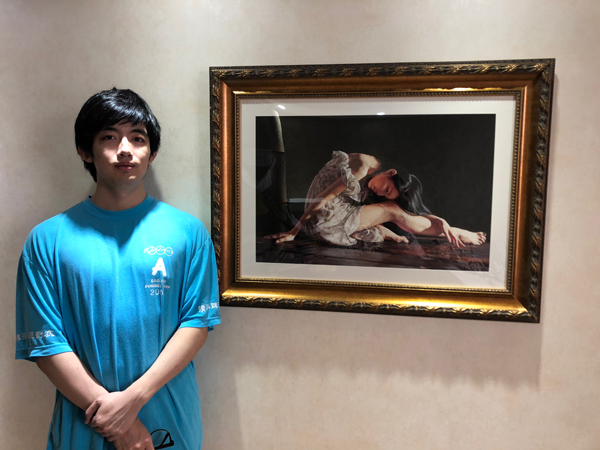 An artist is now using an interactive online-education platform to teach people how to sketch with colored pencils, Chen Meiling reports.
<!-SSE NEWSADSTART SSE-> <!-SSE NEWSADEND SSE->
With four cats, two computers, a shelf loaded with colored pencils, several wooden boards and closed curtains, Meng Xianglei often stays in his studio for hours, with time seeming to stop when he is drawing.
A graduate of the Academy of Arts and Design of Tsinghua University, Meng, 33, is well-known for his realistic figure paintings.
Meng has more than 185,000 followers on Sina Weibo, China's Twitter-like social platform. And many of the fans are his students, who learn how to draw with colored pencils in video courses he has been teaching on CCtalk, an interactive online-education platform.
In his drawings, the hair, eyelashes, skin, lip lines and other details including clothes are depicted with a lifelike effect.
Commenting on the works, a netizen with the online name LMlovemylife says on her Sina Weibo account: "I like your drawings because they make me feel ... comfortable."
Another internet user says: "Even cameras feel threatened at the sight of his drawings!"
His drawing procedure sounds simple-first, select an ideal photo; second, make a draft; third, fill in colors.
His secret to creating his effects is a close and accurate observation and judgment of details in real life, such as the subtle differences in skin color; the corners of mouth; the orientation of the eyes; as well as the comparison of shadow and light, says Meng. "Besides, focusing on the facial expressions and temperament of the figure is also important."
For each artwork, he spends over 100 hours and sometimes uses up to 60 colors and shades.
Also, Meng is "picky" about his subjects. And he says no to subjects whose photos are not to his liking.
"Since I have to spend time on them, it is a torture if I don't like the subject."
Most of his subjects are women and kittens, which have higher aesthetic value in his eyes.
In his view, "few men have that type of exquisite delicacy, which motivates me to create art".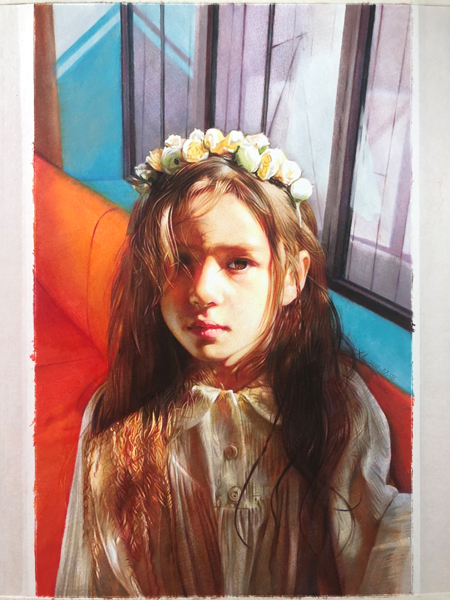 There is a saying that "the cat is the perfect companion for the solitary, sedentary artist". And as if to prove this, his well-decorated studio near his alma mater in Beijing's Haidian district is home to four cats, with a fish-shaped pillow, automatic pet feeders, automatic pet water fountains and a wooden shelf for the cats' entertainment.

Though he doesn't often talk to people face-to-face, he says he is closely linked to society through the internet.

Sometimes, other cats' owners will come to visit and sometimes he travels to dine with friends.

Meng also draws inspiration from such gatherings.

"There, I observe the light, the surrounding environment and the faces of passers-by. People of different ages and from different occupations display different temperaments," he says. "Even friends look a bit different if we don't meet for a year. The mix of familiarity and strangeness gives me inspiration for my drawing."

Meng is good at memorizing people's faces. "My eyes do a quick scan, and their eyebrows, features and the thickness of their lips are all in my mind-it's a kind of occupational disease," he says.

Though he first became interested in drawing when he was 5 years old, he was persuaded to study industrial design instead of arts. After graduation, Meng worked as a real estate advertisement designer for about a year.

There, inspired by colored-pencil masters from overseas, he learned to create his realistic drawings and posted them online in his spare time.

This gradually brought him fame and followers.

Later, a publishing company invited him to write a textbook for art courses, which took him a whole year.

Then, he decided to go on "the right path" to seek his dream-creating artwork with colored pencils.

He says he plans to continue to study art. He is busying learning Italian to join the University of Florence, a top university for art education in Italy.

Meng's online courses are each made up of 30 sessions. And about 70 to 80 percent of his students are women ages 20 to 35. In the summer and winter vacations, he finds that the number of learners can increase to about 400, as students have more time to spend on things that interest them. The price of the course is about 1,700 yuan (3).

<!-SSE PAGELINKSTART SSE->