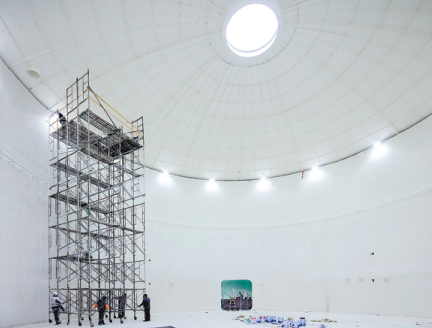 At award-winning design firm Open Architecture, the job is not just about creating new buildings, but creating new life and promoting tolerance and inclusiveness in urban settings.
<!-SSE NEWSADSTART SSE-> <!-SSE NEWSADEND SSE->
The firm's latest project, Tank Shanghai, located in the city's West Bund area, perfectly fits the bill, says Li Hu, the co-founder of Open Architecture. The new art space is made up of five oil tanks that were once used to store fuel for aircraft in the former Longhua Airport.
Furthermore, the space also combines natural landscapes with buildings and integrates a city park with contemporary art exhibitions, industrial heritage and humanitarian futurism, says Huang Wenjing, Li's wife and the co-founder of Open Architecture.
Unlike traditional art museums that are usually situated in a single building, the art space features five separate tanks that allow visitors to smell the flowers in the area and feel the breeze from the river while walking between exhibition halls, adds Huang.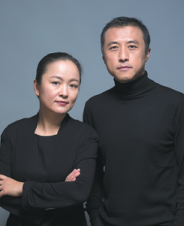 "There are many cases around the world where heritage industrial sites are rebuilt for new purposes and functions," Li tells China Daily at one of the tanks. "But there has never been any case like this. This is the first of its kind."

Open Architecture started working on the art space project in 2013. To integrate art and nature, Li said that he added soil to the area to allow the growing of plants. The firm also introduced a sinking square that invites visitors to walk along passages flanked by trees and paved with small black pebbles before reaching the central lobby of the art space.

To breathe new life into the tanks, Li installed oval windows in the tanks to usher in natural light and created diverse spaces for dining, live performances and educational functions. Visitors can also climb to the top of one of the tanks to admire a view of the surroundings.

Li recalls the construction of the new art space frequently drew curious onlookers who were strolling along the river. He says he hopes this would again be the case when the space officially opens, adding that the art space is meant for everyone and not just society's elites.

"I wish buildings can inspire new ways of living, help us to tolerate each other, love the Earth and cherish the world we live in," he says.

Li, 46, studied architecture at Tsinghua University in Beijing and Rice University in the United States. A former partner of the prestigious Steven Holl Architects, Li says he was a recipient of the "50 under 50: Innovators of the 21st century" accolade.

Set up in 2008, Open Architecture is registered in both Beijing and New York. The firm's Chinese arm has since won multiple international awards in design in the US, the United Kingdom and Germany.

Some of Open Architecture's most notable projects include the Dune Art Museum on the beach of the Beidaihe resort in North China's Hebei province, the Fangshan campus of Beijing No 4 High School and the ongoing Pinghe International School in Qingpu district of Shanghai.

<!-SSE PAGELINKSTART SSE->