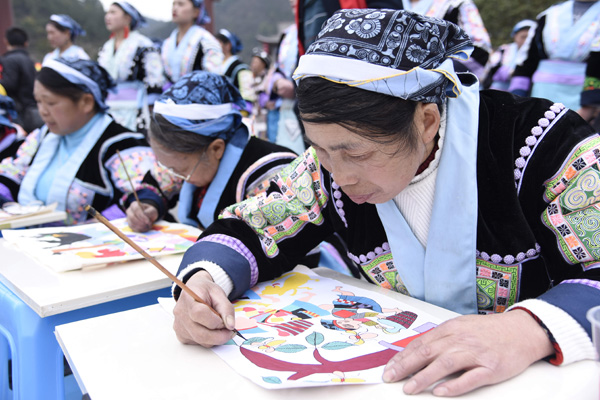 Lan Youjiang's life might have turned out quite differently, if it weren't for the art of farmer paintings, which feature elements of rural life.
<!-SSE NEWSADSTART SSE-> <!-SSE NEWSADEND SSE->
Lan, who was born and bred in southwestern Guizhou province's Longli county, suffered a childhood disease that caused paralysis of his right leg, but he managed to persist in doing farmer paintings due to his interest in the art form.
Many of his works reflect the understanding of the local Miao ethnic group, their rich imagination and aspirations for a better life.
Lan has sold more than 30 works online since 2016.
"Farmer paintings have not only brought me material wealth, but also changed my destiny," the artist says.
Lan is one of an army of Chinese farmers who engage in a traditional art that is gaining increasing popularity.
Farmer paintings began in the 1950s and are closely connected to the development of agriculture, farming and village life, says Zhao Jiazhi, a farmer painting expert.
And they are usually characteristic of working people's feelings, as well as rural folk customs and traditional art.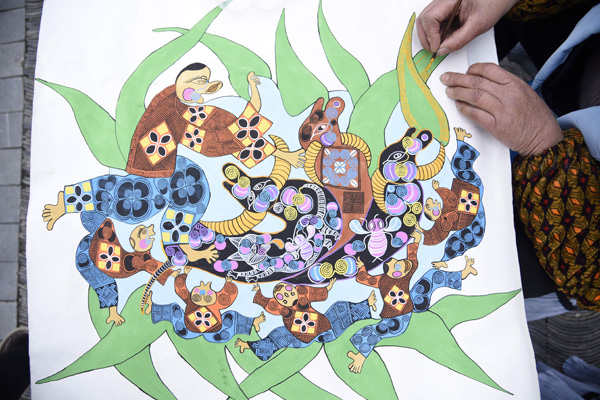 So, bright colors and relatively exaggerated expressions are often common in these works.
So far, more than 300 counties across the country have been regularly holding farmer painting events, and more than 130 villages often present works by their residents at national art exhibitions, according to a recent farmer painting seminar in Anhui province's Huoshan county.
Approximately 30 areas have seen farmer painting grow over the years, including Jilin province's Dongfeng county, Shaanxi province's Huyi district, Shanghai's Jinshan district and Guangdong province's Longmen county.
Also, as urbanization speeds up in China, the rural living environment and means of production are changing. So, farmers are moving from unassuming houses to modern buildings and mechanical tools are replacing hoes and sickles, presenting unique challenges to exponents of farmer painting.
"Chinese farmer fine art and calligraphy need to be carried on, but innovation is also needed," says Bi Mingxin, head of the China Farmer Painting Seminar.
So, Bi wants to see innovation in painting techniques and materials, as well as derivative products.
Jiang Deye from Zhejiang province's Zhoushan uses sea sand and acrylic paint to create a strong visual impact and a sense of color in his works that showcase local fishing and rural scenes.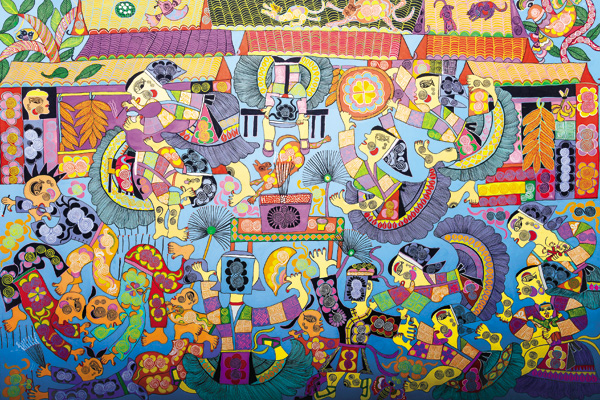 Separately, Jiang's works have made their way to major exhibitions both at home and abroad, including France, South Korea and Japan, in recent years. And the paintings have earned him more than 300,000 yuan (,663) a year.

Meanwhile, Jiang has also designed an umbrella, a mobile phone case and a cushion containing farmer painting elements, all of which are popular. And Xuyuantang, a porcelain company in Fujian province, has developed a technique that applies calligraphy and painting to porcelain plates.

This technique can serve as an alternative medium for farmer paintings and help to develop more derivatives with artistic value, says Chen Fubo, the company's president.

<!-SSE PAGELINKSTART SSE->