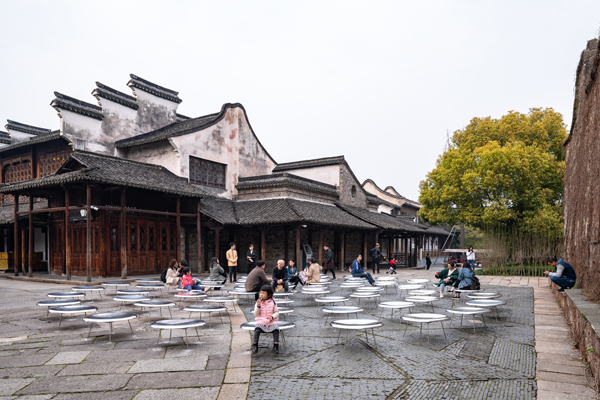 A scenic water town famed for its internet summit and theater festival, Wuzhen now aims to be a global hub for contemporary art exhibitions, Fang Aiqing reports.
<!-SSE NEWSADSTART SSE-> <!-SSE NEWSADEND SSE->
After gaining global recognition for hosting the annual World Internet Conference and Wuzhen Theater Festival, the time is ripe for the water town in East China's Zhejiang province to explore its relationship with the world of contemporary art.
Running through June 30, artworks being shown at the second Wuzhen Contemporary Art Exhibition by big names like Anish Kapoor, Julian Opie, Gregor Schneider and Kazuyo Sejima are adding a fresh cultural dimension to the scenic ancient town.
Under the theme Now Is the Time, 90 works by 60 artists from 23 countries and regions-from sculptures, installations, performance art, images and videos to pieces driven by light, sound and smell-are exhibited in sites scattered between the town's lush trees, calm waters and gray-tiled buildings, and even in the renovated spaces of a traditional rice barn and a silk factory.
"The exhibition presents a current picture of contemporary art and raises questions for the artists and visitors to reflect on the anxiety and insecurity that the complex reality has brought us," says chief curator Feng Boyi.
Although the lineup may not be quite as illustrious as Wuzhen's first contemporary art exhibition three years ago that displayed the works of Damien Hirst, Ann Hamilton and Marina Abramovic, Feng believes the diversity of the artists and range of their works have been enriched this year.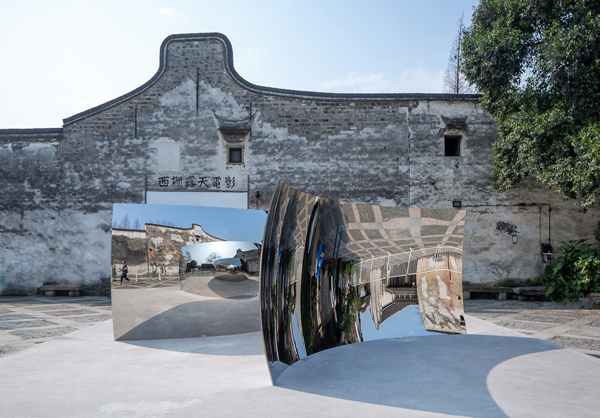 The participation of Pritzker Prize-winning Japanese architect Sejima is certainly one example of boundary-defying artists that Feng is referring to.
Her outdoor installation Another Layer of Surface Water is a pool of mirror-polished chairs set out on a stone-paved piazza that spread out like waves. Visitors can sit on the chairs, chat and watch the reflection of the trees, sky and nearby traditional architecture.
The video installation of 30-year-old Amalia Ulman, who likes to blur the line between fact and fiction in her enduring performances on social media platforms like Instagram, centers around Yiwu, a city in Zhejiang known for its small commodity market.
Starring in the video, Ulman captures city life through her distinctive narrative style, adding subtitles in her mother tongue Spanish, as well as English, German, Japanese and Chinese, and dubbed into Russian, where she ponders whether she might always feel alienated.
Some of the exhibits not only promote dialogue with their surroundings-a typical water town to the south of the Yangtze River-but also with their neighboring artworks.
On the square for open-air movies at the West Scenic Zone stands the renowned India-born British sculptor Anish Kapoor's stainless steel work Double Vertigo, whose concave and convex surfaces reflect one another on one side, while inverting the scene of the square on the other.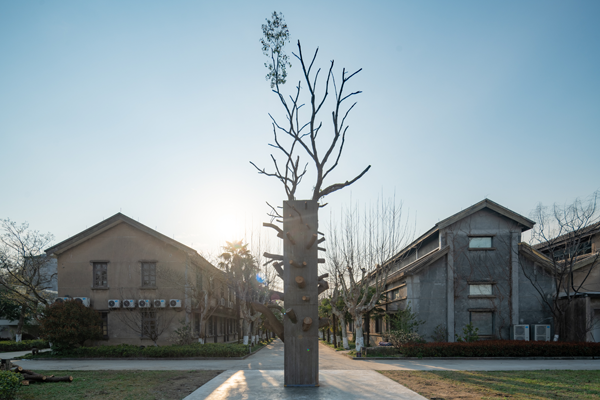 <!-SSE PAGELINKSTART SSE->