Senior Chinese and U.S. officials hold 'frank, comprehensive' talks in Zurich
China and the U.S. have finished their latest round of key talks in Zurich, Switzerland on Wednesday.
High-ranking Chinese politician and diplomat Yang Jiechi and American National Security adviser Jake Sullivan covered a raft of priority issues between the two global powers, including the South China Sea and Taiwan.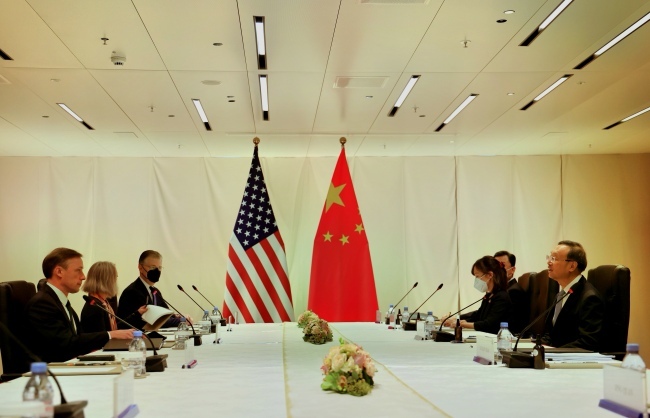 Talks between Yang Jiechi and Jake Sullivan take place in Zurich, Switzerland on October 6, 2021. [Photo: Xinhua]
A Chinese Ministry of Foreign Affairs statement called the meeting a "comprehensive, frank and in-depth exchange of views on China-U.S. relations and international and regional issues of common concern."
It said the meeting was constructive and conducive to enhancing mutual understanding. The two sides agreed to take action to implement the spirit of the September 10 call between the two heads of state, strengthen strategic communication, properly manage differences, avoid conflict and confrontation, seek mutual benefits and win-win, and work together to promote China-U.S. relations back to the right track of healthy and stable development.
Yang Jiechi pointed out that whether China and the United States can handle each other's relations well is a matter of fundamental interests of the two countries and the two peoples and the future of the world.
When China and the United States cooperate, both countries and the world will benefit. If China and the United States confront each other, both countries and the world will suffer serious damage.
The U.S. side should have a deep understanding of the mutually beneficial nature of the relationship between the two countries and a correct understanding of China's internal and external policies and strategic intentions. China opposes defining the China-U.S. relationship in terms of "competition".
Yang Jiechi said that China attaches importance to President Biden's recent positive statements on China-U.S. relations and notes that the U.S. side has expressed its intention not to curb China's development and not to engage in a "new cold war", and hopes that the U.S. side will adopt a rational and pragmatic policy toward China and join China in respecting each other's core interests and major concerns and follow the path of mutual respect, peaceful coexistence and win-win cooperation between China and the U.S.
Yang Jiechi elaborated on China's stern position on issues related to Taiwan, Hong Kong, Xinjiang, Tibet, the South China Sea and human rights, and requested the U.S. side to effectively respect China's sovereignty, security and development interests and stop using the above issues to interfere in China's internal affairs.
The U.S. side expressed its adherence to the one-China policy, said the MOFA statement. The two sides also exchanged views on climate change and regional issues of common concern and agreed to maintain regular dialogue and communication on important issues.
According to a White House statement released after the meeting, Sullivan made it clear during his talk with Yang that the U.S. will "continue to invest in our national strength and work closely with our allies and partners." The country will also "continue to engage with China at a senior level to ensure responsible competition."
The meeting follows several important discussions between the sides. Here are some key points from previous high-level exchanges:
China-US relations
In their phone conversation on September 10, China's President Xi Jinping pointed out the two countries' relationship has run into serious difficulty due to the U.S. policy on China.
He said Beijing and Washington need to show broad vision and shoulder great responsibilities. The two countries should look ahead and press forward, demonstrate strategic courage and political resolve and bring China-U.S. relations back to the right track of stable development as soon as possible for the good of the people in both countries and around the world.
U.S. President Joe Biden said in the phone call that the two powers have no interest in letting competition veer into conflict and the U.S. is prepared to have more candid exchanges and constructive discussions with China to identify key and priority areas where cooperation is possible, avoid miscommunication, miscalculation and unintended conflict and get U.S.-China relations back on track.
Taiwan
Yang Jiechi said in a phone call with U.S. Secretary of State Antony Blinken on June 11 that the Taiwan question concerns China's sovereignty and territorial integrity and involves China's core interests. He reiterated that there is only one China in the world and that Taiwan is an inseparable part of China.
Biden noted in his phone conversation with Xi the U.S. side has no intention to try to change the "One China" policy.
Climate change
Xi has also elaborated on China's position on climate change in previous exchanges with the U.S.
He stressed that China continues to prioritize ecological conservation and pursues a green and low-carbon path to development. He said the nation has taken the initiative to actively shoulder international responsibilities befitting China's national conditions.
Biden said the U.S. side looks forward to more discussions and cooperation with China to reach more common positions on climate change and other important issues.