Xi outlines three principles, four priorities to develop China-U.S. relations
Chinese President Xi Jinping on Tuesday said China and the U.S. should uphold three principles when dealing with bilateral relations in the new era in order to prevent ties from derailing, and outlined four priority areas to push the relationship forward.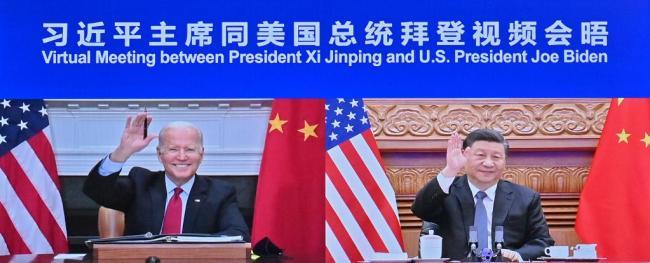 Chinese President Xi Jinping meets with U.S. President Joe Biden via video link, in Beijing, Nov. 16, 2021. [Photo: Xinhua/Yue Yuewei]
Xi made the remarks at a virtual meeting with his U.S. counterpart Joe Biden, during which they discussed strategic and fundamental issues.
Three principles
The first principle outlined by Xi was that the two countries should respect each other's social systems and development paths as well as each other's core interests and major concerns. China and the U.S. should coexist in peace and pursue win-win cooperation, he added.
Second, the Chinese president called on the two sides to seek for peaceful coexistence.
"No conflict and no confrontation is a line that both sides must hold. The U.S. side has suggested coexistence between China and the U.S. One more word can be added to make it peaceful coexistence," said Xi.
Third, Xi suggested that the two sides should uphold the principle of win-win cooperation. China and the U.S. gain from cooperation and lose from confrontation, he said, signaling that the interests of China and the U.S. are deeply integrated.
Stressing that the world is big enough to accommodate the inclusive and common development of both China and the U.S., Xi said that the two sides should pursue mutual benefits instead of a zero-sum game.
Four priority areas
Speaking of the bilateral relationship's future development, Xi outlined four priority areas that he believed joint efforts should be put into.
First, China and the U.S. should shoulder responsibilities, as major countries, to lead international cooperation in tackling global challenges.
Underlining the essentiality of China-U.S. cooperation, Xi expressed hope that the U.S. side could uphold inclusive global initiatives as China proposed.
Second, the Chinese president called for both sides to step up exchanges in various levels and fields to inject more impetus in the bilateral relationship.
Vowing to maintain regular contact with his American counterpart to guide the future direction of China-U.S. ties, Xi said the two sides should enhance exchanges and learn from each other in areas of common interests such as economy, energy, military, law enforcement, education, technology, internet and environmental protection.
Xi called on the two sides to settle specific issues and advance pragmatic cooperation through various channels and mechanisms.
Third, the Chinese president called for constructive measures to manage differences and sensitive issues to avoid bilateral ties derailing.
Noting differences exist between the two sides, Xi said the key was to establish constructive management to avoid a deterioration of problems.
China would safeguard its national sovereignty, security and development interests, Xi stated, before urging the U.S. to prudently handle relevant issues.
Fourth, Xi suggested that the two countries should strengthen coordination and cooperation on major international and regional issues and work jointly to provide more public goods for the international community.
The world is not always peaceful, noted the Chinese president, before expressing hope that China and the U.S. could work together with the international community to defend world peace and development as well as a fair and just international order.