Xi-Biden meeting set tone for China-U.S. economic, trade talks: MOFCOM
The virtual meeting between Chinese President Xi Jinping and his U.S. counterpart Joe Biden has set the tone for economic and trade communication between the two countries that relevant teams from both sides will carry out, China's Ministry of Commerce (MOFCOM) said on Thursday.
The meeting has charted the course for the development of China-U.S. relations, MOFCOM spokesperson Shu Jueting told a regular press conference.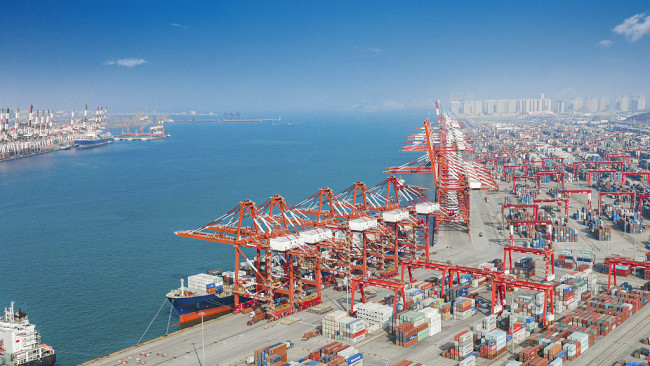 Port of Qingdao in east China's Shandong Province. [File Photo: VCG]
In the virtual meeting between the two heads of state on Tuesday, China and the U.S. agreed to continue to maintain close contact through various means and bring bilateral relations back to the right track of sound and steady development.
The total value of China-U.S. trade increased by 23.4 percent year on year to 3.95 trillion yuan (about $620 billion) in the first 10 months of 2021, accounting for 12.5 percent of China's total foreign trade value during the period, data from the General Administration of Customs showed.
The volume made the U.S. China's third largest trading partner, following ASEAN and the European Union between January and October.
The ministry spokesperson had said earlier that "the bilateral economic and trade cooperation is in the fundamental interests of the two countries and their peoples, and is also conducive to the recovery of the global economy."