Speed|Haikou, a city of dynamism
Published: 2022-08-03 18:25:07
The hot sun shines in the sky, the construction site no flowers smiling at me, only the roar of machines, busy figures everywhere ...... in the construction of a free trade port with Chinese characteristics journey, Haikou rolled up their sleeves to live up to the spring, 2021 since the grasp of the project, expand investment, to promote more than 1,000 projects completed, to "sign The city's high quality development is being pushed forward with the aggressive attitude of "signing a batch, starting a batch, completing a batch and putting a batch into operation".
A key project in Haikou, Landmark Oriental Plaza HFC Hudson Financial Centre is a 268-metre high office building. Photo by Xu Ersheng
The following set of data shows the extraordinary dynamism of Haikou's performance.
Up to now, the total import and export trade volume of Haikou Jiangdong New Area is 5.702 billion RMB, and the offshore trade volume is 2.047 billion USD. 19 "first" business breakthroughs have been achieved in the FTZ, of which 15 have been expanded. By the end of June this year, Jiangdong New Area had registered a total of 21,149 enterprises and attracted 183 landed enterprises, of which 35 of the world's top 500 and 9 of China's top 500 have landed.
More than 6,200 new market entities were added to the Haikou National Hi-Tech Industrial Development Zone, 88 new projects were signed with a total investment of 16.4 billion yuan, and a number of Fortune 500 companies, domestic and foreign head enterprises, and scientific and technological innovation enterprises settled in the zone, becoming an engine to support industrial upgrading.
With the influence of the Consumer Expo, Haikou is making every effort to build first-class quality projects with the "embroidery spirit" + "craftsmanship", and to continue to strengthen the foundation for the free trade port.
Haikou has given full play to the advantages of Jiangdong New Area, National Hi-tech Industrial Development Zone (including Mission Hills Tourism Park), Comprehensive Free Trade Zone, Renaissance City Internet Information Industrial Park and Future Industrial Park to promote the construction of a modern and internationalized New Haikou, and to run the acceleration of Coconut City on China's urban construction track.
Project progress

On January 6 this year, the first batch of concentrated groundbreaking activities of Hainan Free Trade Port Construction Project 2022 were held, and the Haikou branch activities were located at the site of Xinqiong Primary School Project and Meilan District Youth Activity Centre Project. Among them, Haikou concentrated on the construction of 12 projects with a total investment of 4,019.7 million yuan.
On March 18, the second batch of major projects of 2022 in Haikou City was held at the site of Haikou National High-tech Zone Mei'an Ecological Science and Technology New City Haiping International - Haikou High-tech Zone Medical Device Industry Project. A total of 9 projects with a total investment of 10.1 billion yuan and a planned investment of 1.86 billion yuan in 2022, covering industrial development, "five networks" infrastructure, livelihood and public services, ecological and environmental protection.
The largest investment projects in Haikou were the Shengtai Shijia housing project and the Haikou Surf Lane Hotel and Office project, both with a total investment of 2.5 billion yuan.
This year is the year of the construction of Hainan's free trade port and the key year of preparation for the closure of the operation, how can Haikou attack the breakthrough?
Haikou overcame the impact of the epidemic and continued the hard-working qualities of its ancestors by working "day and night", taking the lead and striving hard. A number of batches of projects have been started in a concentrated manner, taking the lead and being a good example.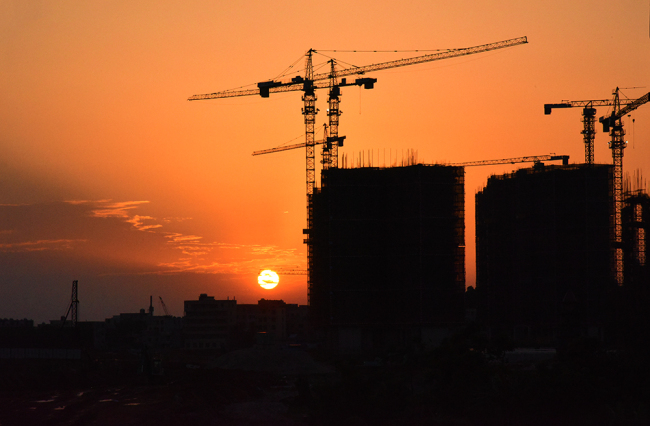 Haikou focuses on building a modern and international city at the heart of Hainan's free trade port. Photo by Xu Ersheng
At present, the first phase of the Fuxingcheng International Cyberport project in Haikou is all topped out and is undergoing interior and exterior decoration, with the official opening planned for the end of this year. With a planning area of 256.8 mu and a planned total investment of 10 billion yuan, the Fuxingcheng International Digital Port will become a pioneering area for integrated innovation of the free trade port system, a digital economy headquarters cluster and a demonstration area for international data services.
The "Happy Lane" project is located in Qiongshan District, Haikou City, creating a new consumer landmark in Haikou. The main project is fully completed and is scheduled for completion in mid to late August this year, with trial operation expected before the National Day. The overall look of the commercial complex is a lane style commercial area, with European Victorian retro style as the main colour scheme and trendy culture as the characteristics, mainly with cinemas, art galleries, swimming pools and hotels and other commercial facilities.
The Jiangdong Nine Dragons headquarters project in the Jiangdong New District Headquarters Economic Zone in Haikou has a total site area of approximately 14.28 mu and a total construction area of approximately 40,000 square metres. The project is scheduled to be completed and delivered in the third quarter of this year to build the first domestic renewable resources exchange, which will become a commercial office building integrating business and offices.
As a key project in Hainan Province, CCCC International Centre in Haikou is committed to becoming a new landmark for the city's headquarters economy and creating a new "vertical industrial park" in the Dayingshan Financial Cluster. With a total investment of RMB 1.8 billion, the project is scheduled to be fully topped out in August this year.
On 27th June, the International Business Cluster Project of Shandong State-owned Enterprises in Jiangdong New Area of Haikou started construction.
The project is jointly invested and constructed by Shandong Energy Group, Shandong Land Group and Shandong Health Group, with a total planning area of 198.92 mu and a total construction area of about 556,000 square metres. The "inter-provincial enclave" cooperation model. The project exhibition centre is scheduled to be opened to the public at the end of the year, and the project aims to be completed and put into use in 2025.
Luo Zengbin, member of the Standing Committee of the Hainan Provincial Party Committee and Secretary of the Haikou Municipal Party Committee, said that another new achievement of deepening cooperation between Haikou and state-owned enterprises of Shandong Province will certainly promote the cooperation between the two sides to a new level and inject new momentum into the construction of Hainan Free Trade Port and the high-quality development of Haikou. Haikou will continue to optimize the business environment and provide quality services, so that every investor and entrepreneur can fully share the dividends of the construction of Hainan Free Trade Port in Haikou, so that everyone can work and live in Haikou as they wish.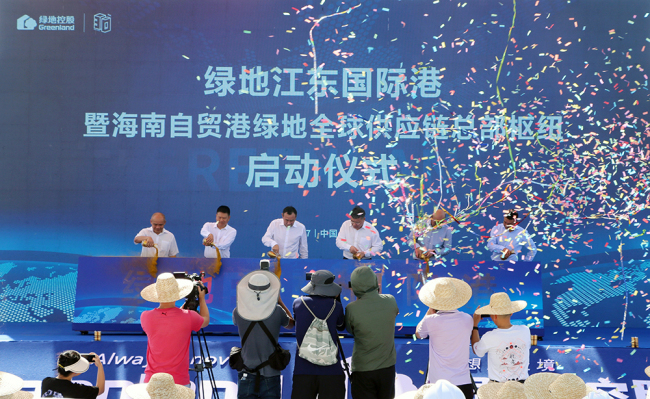 Greenland Group's first global logistics supply chain headquarters hub is located in Jiangdong New District, Haikou. Photo by Xu Ersheng
On July 8, Greenland Group's global logistics supply chain headquarters hub - Greenland Jiangdong International Port project was launched in Haikou Jiangdong New District. The Greenland Jiangdong International Port project will make full use of the advantages of Hainan's free trade port policy, focus on the field of big logistics and big consumption, with cross-border trade, intelligent logistics, cold chain processing and retail business as the four major development positioning, to build a benchmark project in the logistics and commerce sector of the airport economic zone.
Julei, Secretary of the Party Committee of Jiangdong New Area Administration of Haikou, revealed that he would fully support the project, provide quality services for the development of the enterprise by all means and measures, create a good business environment, and strive to achieve a "win-win" cooperation between the government and the group.
The deputy secretary of the Haikou municipal party committee and mayor Ding Hui said, continue to firmly establish the concept of "project is king", a high starting point to plan a number of major projects related to the construction of Hainan free trade port and the overall economic and social development of the city, to carry out accurate professional investment, all out to run the acceleration of project construction.
Centralized contracting

China.com Hainan has combed through some of the centralized signing activities in Haikou this year and found that the city's construction is speeding up and Haikou is insisting on benchmarking itself against the best and carrying the provincial capital.
On April 11, Hainan Free Trade Port 2022 (the first batch) focus on the signing of key projects Haikou venue activities were held. A total of 36 projects were signed, with a total planned investment of 13.02 billion yuan, including one strategic cooperation project, 35 investment cooperation projects; 13 modern service industry projects and 23 high-tech industry projects.
The centralized signing included the signing of key investment projects in Haikou City and the signing of key projects in the biomedical industry cluster in Haikou City. The signed projects are focused on the "3+1+1" modern industrial system, mainly covering biomedicine, high-end manufacturing, modern logistics, digital economy, offshore trade, business aviation, modern finance and other industrial fields, mainly located in Haikou Comprehensive Free Trade Zone, Haikou National High-tech Zone, Haikou Jiangdong New Area, Longhua District, Meilan District, Fuxingcheng Internet Information Industry Park and other key parks and administrative districts in Haikou, which will help the industrial development of the district and promote the formation of industrial clusters.
After that, China Hainan Human Resources Service Industrial Park Haikou Branch Investment Promotion and High Quality Development Seminar was held in Haikou Renaissance City. At the meeting, five enterprises, including Beijing Foreign Enterprise, Recruitment, Rexfangda, Reebok Manpower and Zhijie Manpower, reached a cooperation agreement with Haikou Branch Park, injecting new momentum to promote the high-quality development of Haikou Branch Park.
After two months, the "Haikou Economic Circle" Labour Matchmaking Signing Conference was held in Haikou Renaissance City, marking the beginning of a joint effort by five cities and counties - Haikou, Wenchang, Chengmai, Ding'an and Tunchang - to build an open and cooperative public employment service platform in the next three years, creating a "bridgehead" for the transfer of labour. "to promote stable employment and income growth for the labour force.
June 23 to 25, Luo Zengbin led a team to the Pearl River Delta to carry out investment activities, field visits intended for investment enterprises, in-depth docking exchanges, to promote cooperation projects to speed up the signing of landing. During the period, Haikou City were signed with Huawei, Konka Group, Shenzhen International Holdings, Huada Gene, etc. Konka Hainan headquarters and zero carbon industrial base, Shenzhen International - Haikou intelligent supply chain base, Hainan Huada Gene medical testing laboratory and other projects settled in Haikou, covering advanced manufacturing, high-tech, medical health, modern logistics and other industrial fields.
On June 28th, Hainan 2022 International Design Island Haikou special promotion meeting was held in the form of a live broadcast on the cloud, and 8 design companies intending to settle in the city signed a contract online.
Hainan provincial party committee standing committee, Haikou municipal party committee secretary Luo Zenbin presided over the city's key work monthly scheduling meeting. He stressed that the full implementation of the Party Central Committee, the State Council on the stabilization of the economy of the general decision and deployment and Hainan Provincial Party Committee, the provincial government's work requirements, all-out sprint for the first half of the economic work target, to complete the annual target tasks to lay a good foundation.
Last year, Haikou concentrated on grasping projects and expanding investment, and development momentum continued to increase. Strictly implement "quarterly grasping and monthly tracking", sort out and improve the "one account" of projects over 5 million, and promote the completion of 1016 projects such as the Shanghai World Wide Affiliated School. We also carried out a 100-day campaign of "learning from each other and catching up", strictly implemented the "five-one" responsibility, implemented the "five special classes" model, and strongly promoted the transformation of the green corridor of the crater and the resettlement of Jiangdong New Area. The city's 38 key provincial projects have been completed. The city's 38 key provincial projects completed an investment of 23.69 billion yuan, exceeding the annual target and providing important support to promote high-quality economic development.
In accordance with the objectives and tasks, this year Haikou insists on the integration of industry and city, accelerates the industry to complement and extend the chain and strengthen it, and promotes the high-level opening and high-quality development of key parks. The construction of the Jiangdong Modern Service Industry Demonstration Zone will make breakthrough progress, the ecological CBD will accelerate its formation into momentum, five headquarters buildings will be completed and put into operation, and more than 18 new well-known headquarters enterprises will be introduced. We will expand aviation logistics, aviation maintenance and consumer boutique businesses, and build an aviation industry functional area and an airside industry cluster. Annual revenue growth of over 18% and tax revenue growth of over 32%.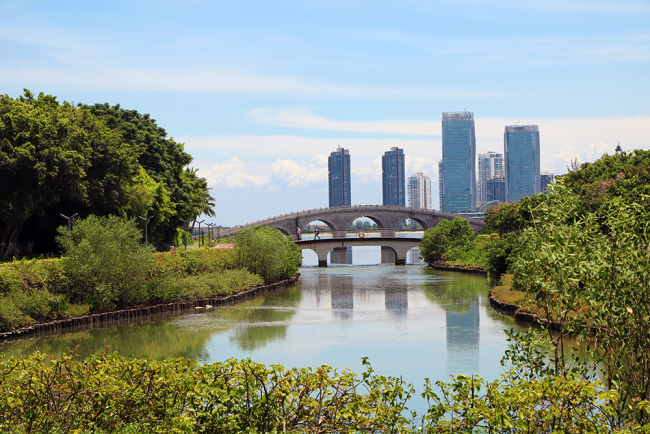 Haikou creates a good ecological and business environment to create a foundation for investors to prosper. Photo by Xu Ersheng
Meanwhile, Haikou National Hi-Tech Industrial Development Zone has accelerated the construction of the national biopharmaceutical industry cluster in Haikou New Pharmaceutical Valley, the biodegradable materials industry base in Yunlong, the high-end food processing base in Lixiling and the Mission Hills World New Energy Vehicle Experience Centre.
Merit Scheme

The process of promoting the construction of Hainan's free trade port cannot be done without the support of talent, which is the source of motivation for the city of Haikou to move forward.
On July 6, the CPC Haikou Municipal Committee and the Haikou Municipal People's Government issued the Opinions on the Implementation of the "Coconut City Excellent Talent Plan" (hereinafter referred to as "Opinions"), which will implement a special plan for the introduction and cultivation of talents in key areas with high standards, focus on serving the construction of the free trade port and promoting the high-quality development needs of Haikou, vigorously strengthen the advanced manufacturing industry, modern In the next five years, 1,000 talents with full-time master's degree or above or with senior titles will be introduced; 2,000 graduates with bachelor's degree or above from "double first-class" universities will be introduced every year.
The "good headmaster" and "good teacher" will sign a service contract with Haikou for more than 5 years and will receive a one-off settlement of RMB 150,000-500,000 in their left hand and a special allowance in their right hand after being formally transferred to the city. The "good dean" and "good doctor" who are just introduced will sign a service contract with Haikou for more than 8 years, and will receive a one-off settlement fee of 400,000-600,000 yuan after their appointment, and will also receive special subsidies for the first 5 years after their introduction.
Haikou rewards 5 million RMB for newly established national key laboratories that pass the accreditation assessment; a one-time reward of 2-3 million RMB for newly accredited national technology innovation centres, manufacturing innovation centres, engineering (technology) research centres, technology transfer centres, etc.; a reward of 2-5 million RMB for upgrading highly skilled personnel training bases that are accredited at national and provincial levels; a reward of up to 2 million RMB for high-level International academic forums (academic organizations), professional forums held in Haikou or permanently settled, rewarded up to 2 million yuan.
The "Coconut City Excellent Talent Plan" innovatively proposes to set up a special establishment of "Coconut City Excellent Talent", which will be used exclusively for the introduction of talents, with the total amount controlled, managed separately and converted for use on a weekly basis, so as to effectively solve the problem of insufficient establishment of some institutions in urgent need of talents. Specific measures are proposed in the areas of talent work pattern, rule of law protection, credit construction, housing, children's schooling, medical and health care, convenience of overseas talents to stop and stay, and talent service system to attract more talents from upstream and downstream enterprises in the supply chain of industrial chain and innovation chain to gather in Haikou.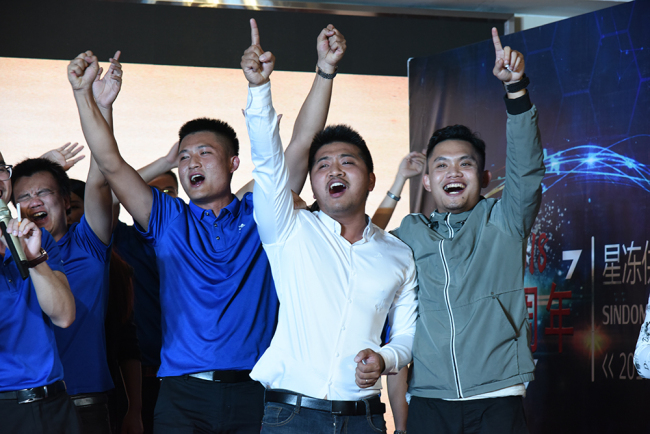 35 talent initiatives landed and Haikou's talent policy upgraded again in 2022. Photo by Xu Ersheng
According to the introduction, Haikou continue to establish and improve the talent innovation and entrepreneurship "whole cycle, the whole chain" service model, so that talent to attract into, stay, and develop a good, give full play to the talent in the "a three base four beams eight pillars" strategic framework of the "pillar" role. The "pillar and foundation" role, to build the core area of Hainan free trade port, the construction of a modern internationalization of the new Haikou to provide solid talent support and intellectual security.
The Talent Development Bureau of the Haikou Municipal Committee will carry out regular inspections and supervision in accordance with the initiatives and division of responsibilities proposed in the Opinions, to keep abreast of the implementation situation and coordinate the resolution of existing problems to ensure that the tasks are put into practice.
Written by Xu Ersheng
Produced by China.com Hainan