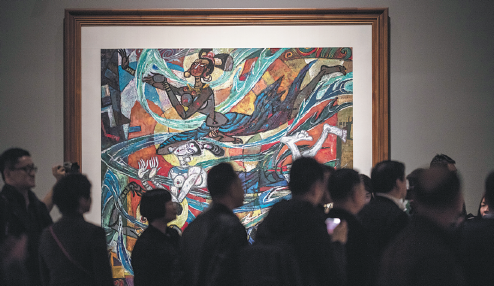 A retrospective of Liu Shaohui's work at Tsinghua University Art Museum highlights the modernist painter's vibrant pursuit of eternal beauty.
<!-SSE NEWSADSTART SSE-> <!-SSE NEWSADEND SSE->
When Liu Shaohui enrolled at the Central Academy of Arts and Design, now the Academy of Arts and Design of Tsinghua University, in 1960, he was nurtured by a star-studded faculty of prominent figures known for bringing Chinese and Western arts closer together in terms of painting and teaching. As devoted educators, these artists, including Zhu Danian, Zhang Guangyu, Pang Xunqin and Zhang Ding, all implanted in Liu's mind a mantra that remained central to his creations over the next six decades: "Picasso mixed with Chenghuangmiao".
Liu, now 79, explains that "Picasso" is a metaphor for the styles of modern Western art, which influenced several of his teachers, when they studied art in Europe from the 1920s to the 1940s; while Chenghuangmiao is a historic Taoist temple in downtown Shanghai that boasts bustling commercial areas and crowds of visitors, making it a key attraction in the metropolis.
Liu says his predecessors put the two seemingly unrelated things together with a shared hope that modern Chinese artists would dare to usher their cultural traditions into a modern context, and produce works that still pleased the eyes of everyday audiences.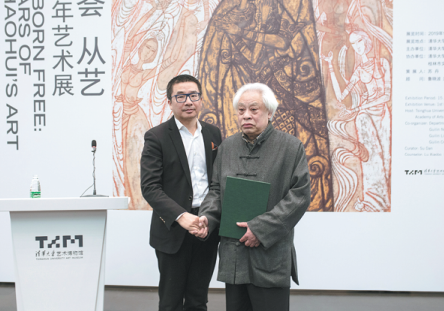 This approach has been at the heart of Liu's work, which feature a vibrant palette and animated lines. His ongoing retrospective exhibition at Tsinghua University Art Museum, I Was Born Free, through May 5, encompasses 120 paintings that reflect his pursuit of eternal beauty.
After graduation, Liu moved to Southwest China's Yunnan province and later onto South China's Guangxi Zhuang autonomous region. Inspired by the grand landscapes and diverse ethnic cultures there, he produced a number of eye-catching paintings and drawings which are exuberant with vibrancy. He meanwhile incorporates elements from modern art movements, such as cubism and fauvism, to adopt strong colors, exaggerated forms and carefree lines.
Liu revisits the motifs of the dense trees and mystical forests of Yunnan, where he taught from the 1960s to the early 1980s. He says he was drawn to depicting the wild landscapes as he sensed a courageous and daring spirit when he sketched and observed the rainforests there.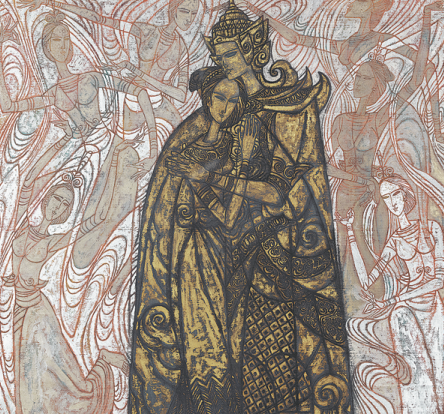 He moved to Guilin to teach in 1985, where he was touched by a different view of nature, the gentleness of the meandering rivers and the haunting power of the rocky, mountainous terrain.

During his time at college, Liu was not only trained to be a painter, but he also studied design under several professors of Chinese folk arts and crafts.

This ignited his interest in folk culture and set another tone for his work, where he often wove elements of folklore, local customs and the decorative patterns of the ethnic groups in Yunnan and Guangxi into his works.

Liu says it was in the rainforests of Yunnan and between the mountains and waters of Guangxi that he has found the pulse of his art and his identity as someone who found freedom in painting.

"When I draw on paper the twisted tree trunks of the rainforests, or the extraordinary curves of the piles of rocks, I am, in fact, painting the toil and the joy I've been through.

"Together they complete a profile of my temperament, revealing my true passion of life," Liu says.

Su Dan, the exhibition's curator, says the pursuit of freedom defines Liu's path in life and forms the basis for his more diverse approach to painting, as reflected in his bold yet composed palette, and the free, elegant strokes depicting his works.

<!-SSE PAGELINKSTART SSE->