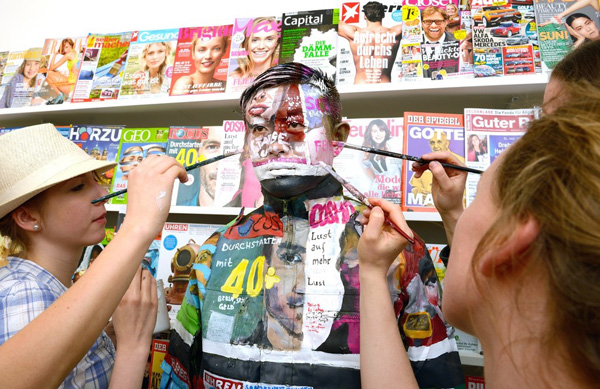 It's your last chance in Hong Kong to see the thrilling show by Liu Bolin, aka the Invisible Man
<!-SSE NEWSADSTART SSE-> <!-SSE NEWSADEND SSE->
If you haven't yet seen the remarkable Shandong-born artist Liu Bolin's New Change show at the Over The Influence gallery in Hong Kong, the artist's inaugural exhibition in the city, there's still one week left. Featuring new sculptures, photographs derived from more than five years of shows, and a live performance at an off-site venue in Hong Kong, it continues Liu's ongoing exploration of critical issues and political controversies from around the world.
Known as the "Invisible Man", Liu has become internationally recognised for developing a unique visual composition that examines the relationship between contemporary life and the urban environment. His work continues to push the transformative potential of the individual and collective expressions of resistance.
On first glance, his works seem like simple photos of unique locations – a rack of Mexican wrestling masks for sale or a pile of municipal waste. On closer inspection, however, the outline of man appears, precisely painted in camouflage and hiding in the open. Seeing his works presents a sort of Where's Wally challenge on a high-art level.
The artist's first solo exhibition in Hong Kong, New Change is anchored in Liu's reflections on the abundance of capitalism and the destructiveness of consumerism, particularly in its impact on the environment. Included in the show is a new work immortalising a performance in a surprisingly abundant Pyongyang supermarket, with shelves fully stocked with ceremonial objects and groceries from North Korea.
Inspired by his powerful visuals, a diverse range of artists, institutions and organisations – including the Louvre, Carlos Cruz-Diez, JR, Jon Bon Jovi and Kenny Scharf – have invited Liu to collaborate on creative projects. See this one while you've got the chance; it closes on April 27.
Over The Influence, 159 Hollywood Road, Central
(overtheinfluence.com)

<!-SSE PAGELINKSTART SSE->