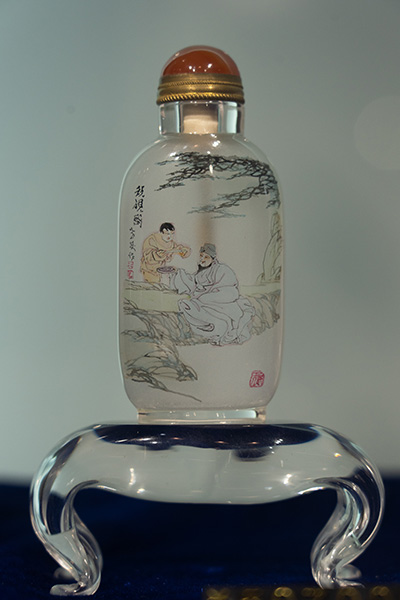 An exhibition highlights skill and aesthetics, Zhang Kun reports in Shanghai.
<!-SSE NEWSADSTART SSE-> <!-SSE NEWSADEND SSE->
Glass art has taken on a unique look in Boshan, a small town in East China's Shandong province, where artists are creating complex paintings inside small snuff bottles that are no larger than a person's palm.
Some of the master artists from Boshan presented their creations in Shanghai from April 22 to Tuesday in an exhibition titled Spilt Colors and Flowing Lights at the new cultural center at 52 Duolun Road that features traditional Chinese art and craft.
Although artists in China began painting inside snuff bottles in the early 1800s by dipping the curved tips of fine bamboo sticks in ink and mineral pigments, it was Wang Xiaocheng who redesigned the Chinese brush and took the art form to a new level.
The 74-year-old, who is one of the artists featured at the exhibition in Shanghai, is also one of six nationally recognized master craftsmen who have made significant contributions to the center. Wang will also have residence, host cultural salons and give lectures at 52 Duolun Road.
Wang is known as the man who combined Chinese paintbrushes with the miniature bamboo stick that allowed him to create thinner and more accurate strokes on the glass surface, in turn paving the way for the creation of more complex artworks.
Among his best-known creations is a group portrait of 108 characters from the classic Chinese novel The Water Margin. All the heroes and martial art fighters are painted on two sides of a glass bottle measuring no more than 8 centimeters tall and 5 centimeters wide.
In an interview to China Daily, Wang says he joined the glass factory when he was just 12 years old, filling the job that his sister vacated as she was sick. His talent for the craft was clear even though he was so young. Just a year later, Wang was chosen to be an apprentice of master craftsman Xue Jingwan and he got to learn how to paint on the interior of bottles. He later studied at an art school in Shandong and at the Zhejiang Academy of Fine Arts, now known as the China Academy of Art.
Eager to put into use what he had learned, Wang had in 1961 bound part of the hair from a painting brush with fine thread to the bamboo stick traditionally used for painting on the interior of bottles. The soft tip allowed a new freedom for expression.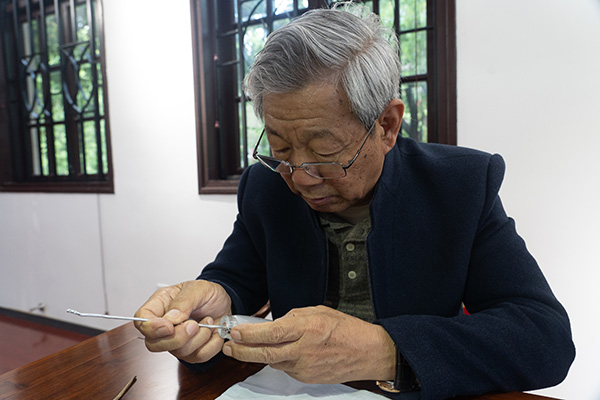 "I could paint the intricate changes in the different shades of green seen in the woods, the fine outline of a lotus leaf, and details of a bird or a bug," he says.

In 1971, Wang came up with the ambitious plan to paint the 108 heroes from The Water Margin inside a bottle. While it was difficult to fit so many figures in a small frame that measured no more than 40 square centimeters, Wang says the greatest challenge was actually giving each character a distinctive identity.

"I had to hold my breath when drawing each face," he says. "The completion of every head felt like I had just passed a stern test."

At that time, the state government was encouraging craftsmen to sell their creations overseas, and one of the works he chose for this achieved critical acclaim at the China Import and Export Fair in Guangzhou, Guangdong province.

In the following decades, Wang went on to win many national awards before receiving the title of "China's National Master of Arts and Crafts" in 2006. He now has plans to build a museum to document the heritage and development of his craft.

Glassmaking has been a craft practiced in Boshan for hundreds of years. A small temple for the God of the Glass Kiln still stands on a hillside in the town.

Snuff was introduced to China by the Europeans during the Qing Dynasty (1644-1911). Small bottles made of jade, glass, ivory and other material were widely sought after in Beijing during that period. Boshan was initially a hub for the manufacturing of these snuff bottles before local craftsmen later learned the skill of painting inside the bottles.

The subjects that are painted often include flowers and birds with auspicious meanings, landscapes and portraits. The development of the craft was temporarily affected when Qing rule ended and the aristocrats lost their money and status. The craft was revived in Boshan after 1949 due to support from the government.

"Chinese art has distinctive aesthetics. In the West, artists observe and depict a subject through different facets, while in Chinese art, lines and strokes play a decisive part," says Wang.

"Snuff bottles are found in many parts of the world, but painting inside the bottle is a craft that is unique to China. We are the ones who are responsible for creating this art form."

<!-SSE PAGELINKSTART SSE->